INDIAN RAMBLE - PART 2
Nagarjunakonda
Local buses have stiff truck suspensions and rattle from every bolt—you sit in the back seats at your peril! Yet these were my only public transport option when heading away from the train routes. Such a bus got me far up the Krishna River valley to a village near Nagarjunakonda, an island with an unusual Buddhist site. The valley once had 30 monasteries dating from the 3rd century BC to 4th century AD, but these faced inundation from a reservoir, so archaeologists hurried to excavate the sites and move the best to safety on a hilltop, now an island in Nagarjuna Sagar reservoir. I took a boat out for an enjoyable ramble through the ruins of a great stupa, temples, monasteries, and a sacrificial site with a tortoise-shaped pool. The large museum holds many stone statues and reliefs that show religious life of long ago.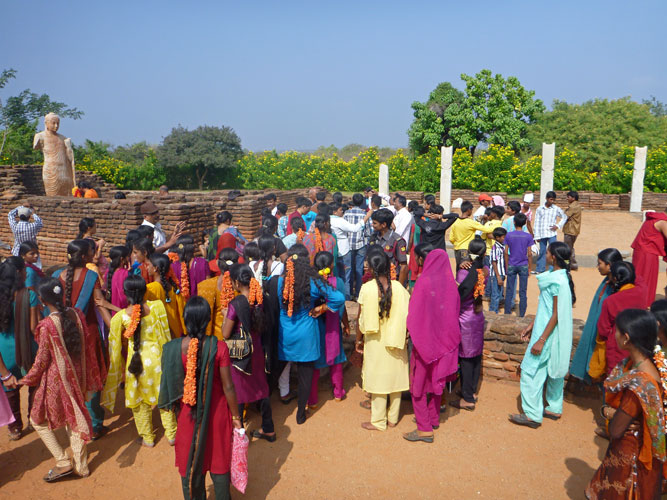 A monastery, moved from the inundated Krishna River Valley, attracts a colorful crowd to Nagarjunakonda.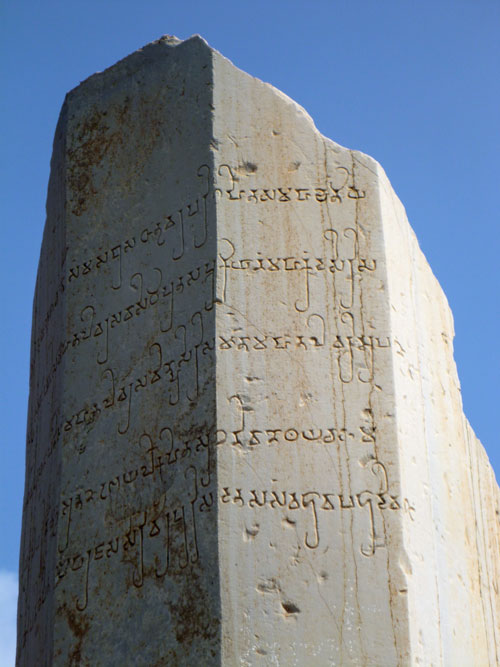 A marble pillar on a large stupa at Nagarjunakonda

Hyderabad
I had long wished to visit Hyderabad, City of Pearls, to see its legacy of Islamic monuments. The Charminar, built in 1591 to commemorate Hyderabad's founding, seemed the place to start. The square structure rises 56 meters with four arches and has a fine view of the Old City and its crowded bazaars, mosques, and palaces. Next I looked into the massive 17th-century Mecca Mosque with its vast courtyard and royal tombs. The nizams (rulers) lived in grand style in Chowmahalla Palace, actually a series of palaces separated by gardens, pools, and fountains in a flamboyant mix of Indian and European styles. Important ceremonies took place in the magnificent durbar hall under 19 Belgian crystal chandeliers. The nizams loved to collect jewels and other pretty things, many thousands now on display at the Salar Jung Museum. The sixth nizam's home, also a museum, is entered through a 72-meter-long, two-level wardrobe that once held his intricately embroidered robes and other clothing—perhaps the world's largest closet. Outside the city, I climbed the ramparts of Golconda Fort, the predecessor of Hyderabad, to see its grand ruins of palaces, mosques, and seemingly impregnable defenses. I also enjoyed a stroll in a peaceful garden setting nearby around the elegant domed Qutb Shahi tombs and a hammam (bath house). Back in town at a concert of qawwali (Muslim devotional music), I experienced haunting songs by a solo woman and by groups; three whirling dervishes from Turkey performed their devotional twirling, something I'd never seen before.
Hyderabad has a reputation for religious tolerance, and other faiths are celebrated. Stone carvers took five years to fashion one of the world's largest Buddha statues, a 350-tonne monolith that stands 17.5 meters on an island in the center of the large Hussain Sagar reservoir. I took a boat out in the evening, then watched the play of changing colored lights on it as darkness fell. The Andhra Pradesh State Museum displays many Buddhist relics from the ancient sites around the state, along with Hindu and Jain statuary. When leaving the museum, I saw a poster for a Christmas celebration, sponsored by regional churches, to start that very minute at a nearby outdoor theater. The program offered fine singing in Telugu language by a choir and a variety of concerts with Christmas songs and dance in styles ranging from Bollywood pop to traditional. The chief minister (governor) of Andhra Pradesh arrived, then had to listen to a list of church demands read out by a priest for such things as the right for clergy to issue marriage licenses and for the government to provide land for Christian cemeteries. The chief minister listened patiently, then replied that the government process "takes time."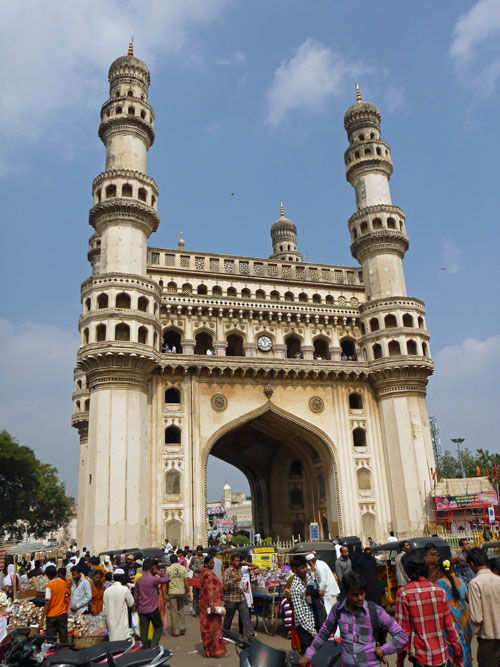 Mohammed Quli Qutb Shah built the Charminar in 1591, and it's now Hyderabad's chief landmark.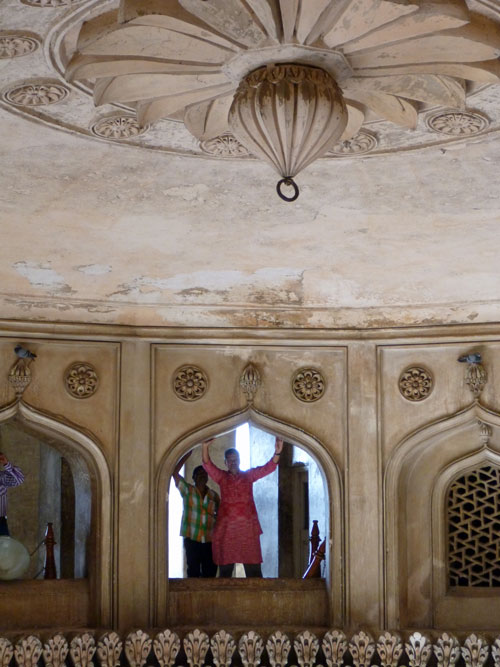 Tourists swarm the Charminar.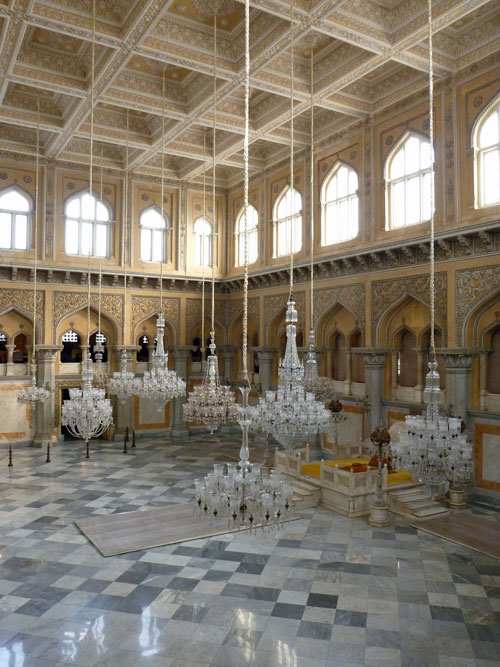 Just some of the 19 chandeliers in the durbar hall of Chowmahalla Palace!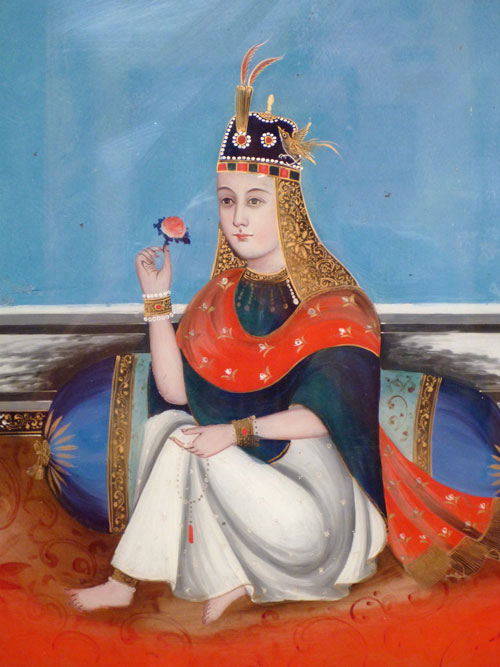 Pretty princess on a glass painting at Chowmahalla Palace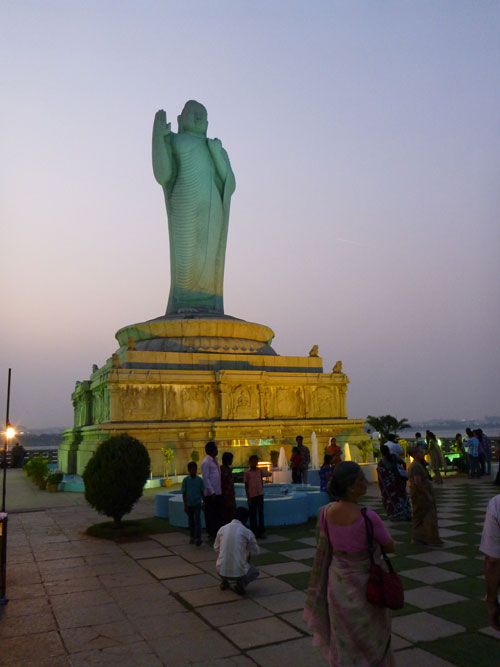 As night falls, the Buddha takes on new colors. Reliefs of the Buddha's life surround the base.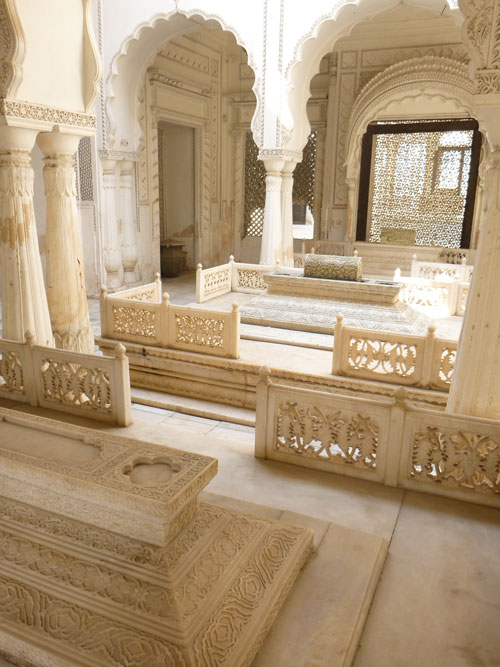 Shades of white marble and terracotta at Paigah Tombs, hidden away in the outskirts of Hyderabad.
The Paigah family served the nizams as statesmen and generals.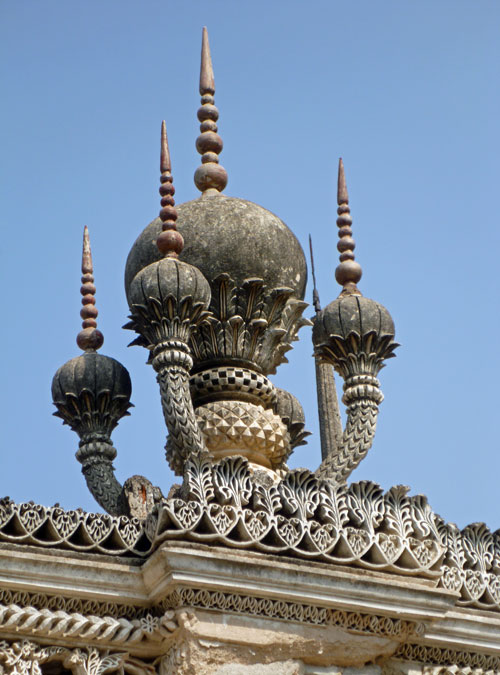 Rooftop flamboyance at Paigah Tombs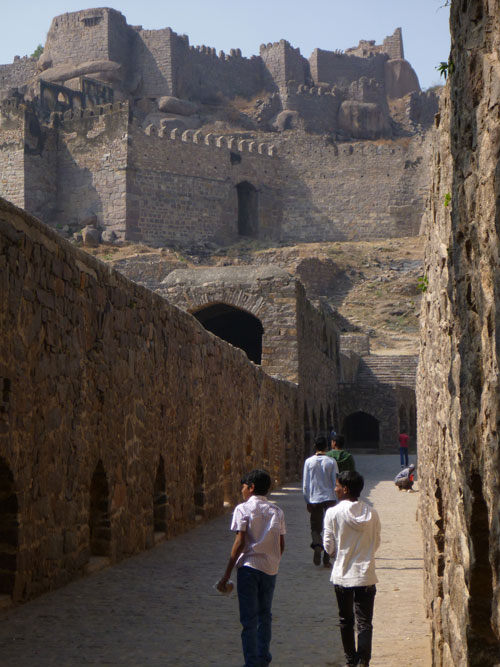 Formidable walls of Golconda Fort. There's much to explore here.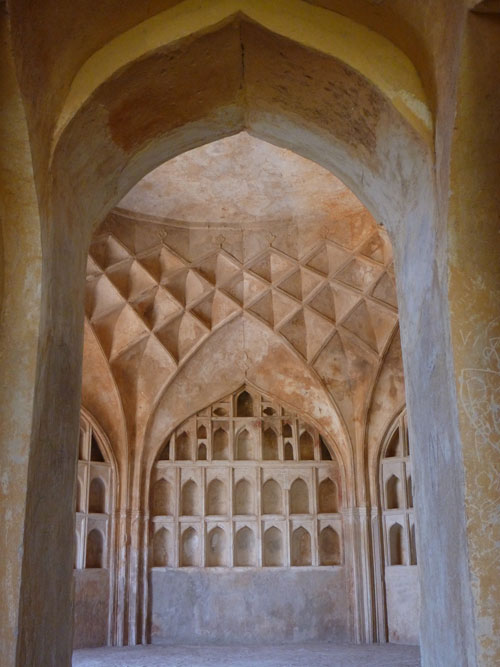 A palace room at Golconda Fort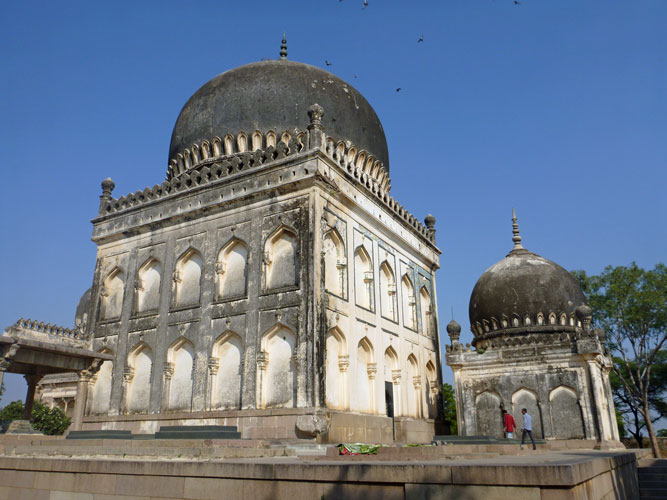 The royal family of Golkonda Fort now sleep on in Qutb Shahi Tombs.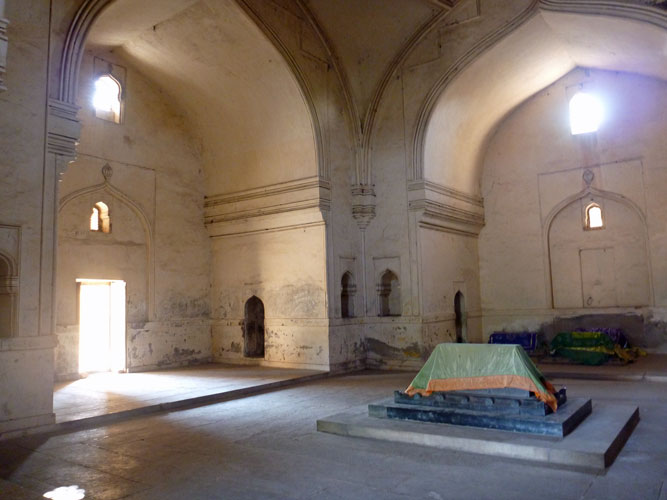 Inside a Qutb Shahi Tomb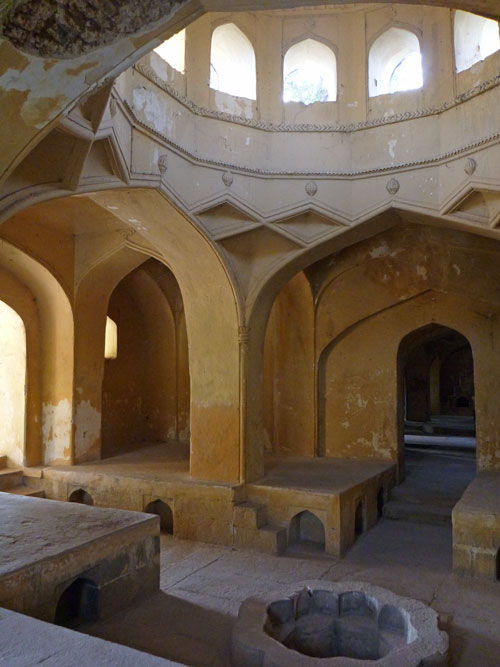 Platforms and small pools of the hammam at Qutb Shahi Tombs