INDIAN RAMBLE - PART 4
Nagpur
Getting to my next destination, Bhopal in central India, turned out to be an ordeal. Two long waits in line at two train stations in Warangal proved fruitless for reserved tickets. In the end I got a cheap unreserved second class ticket for a "Super Fast" train. Only one car accommodated the unreserved masses, and it was packed just like the ones you see on the TV shows about Indian trains. I had to stand most of the way, and decided to get off early at Nagpur, a large city in the orange-growing region of Maharashtra state.
I headed out by bus from Nagpur to visit the hilltop temples of Ramtek, a site visited by Lord Rama, his wife Sita, and brother Lakshmana when the trio was wandering in exile as told by the Ramayana story. The modest 600-year-old temples have images of these along with the faithful monkey general Hanuman. Very tame relatives of Hanuman, langurs, prowled the temple grounds and accepted food offerings from hands of visitors. I enjoyed getting out of the city into fresh air and the vistas from the hilltop. Heading down, I followed a trail to Ambala Tank, a lake whose shore has many small and picturesque temples.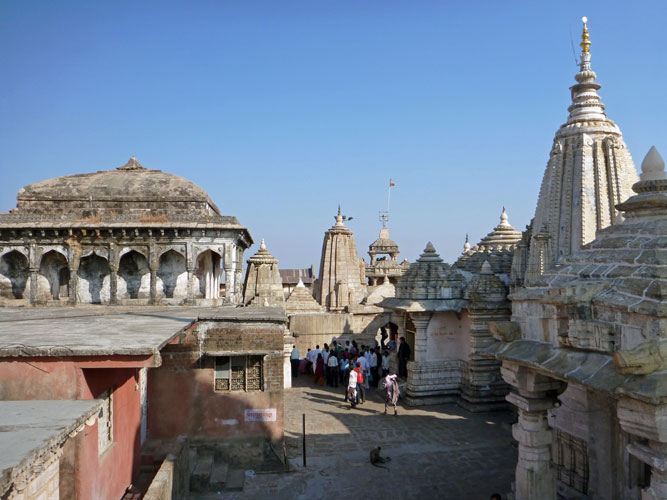 The courtyard of Ramtek temple group, 40 kilometers northeast of Nagpur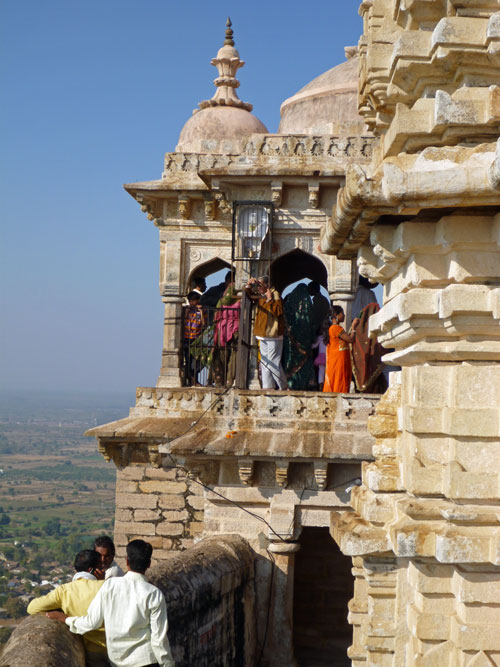 Enjoying the view from the back of Ramtek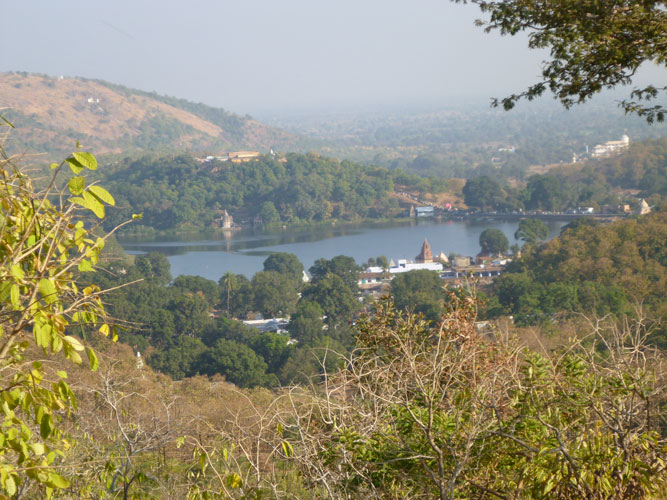 Ambala Tank from the trail below Ramtek
Back in Nagpur, I found an Internet cafe that allowed me to use my netbook, so I added three pages about my India trip so far to this website. The Internet cafe also doubled as a travel agency, and cobbled together a reserved ticket on to Bhopal, traveling the first half of the night to a junction station called Itarsi, then waiting four hours in the darkness for the final two-hour run into Bhopal. Although inconvenient, at least I had a berth and a seat when all other trains were packed out.
Bhopal
Bhopal, the capital and cultural center of Madhya Pradesh state, wraps around a large lake with the bustling dusty old city of bazaars and mosques to the west and north and the new city to the south. Muslim rulers founded it, building huge mosques and ornate palaces. Unfortunately Bhopal is now best known for the December 1984 chemical plant disaster in which about 20,000 people have died and many more still suffer illnesses. Newspapers report ongoing demands for compensation by the victims, but Union Carbide, the chemical plant owner at the time, refuses to dent corporate profits with further compensation. Making things far worse, the Indian government has shown itself to be too inept to provide enough assistance or even to clean up the disaster site.
I found the Shamla Hills, which overlook the lake's southern shore, to be the most pleasant part of the city. Here I spent a whole day wandering the reconstructed tribal villages on the vast grounds of the Museum of Mankind (Rashtriya Manav Sangrahalaya). Many of India's 450-plus tribal groups had constructed traditional village houses, outbuildings, and sacred sites here, and signs told of lifestyles, folk tales, and belief systems. Although a bit of a ghost town, the exhibits were very good. In late afternoon the place came to life when several tribal groups performed folk dances. I later returned to see the indoor museum and its fine collection of tribal crafts.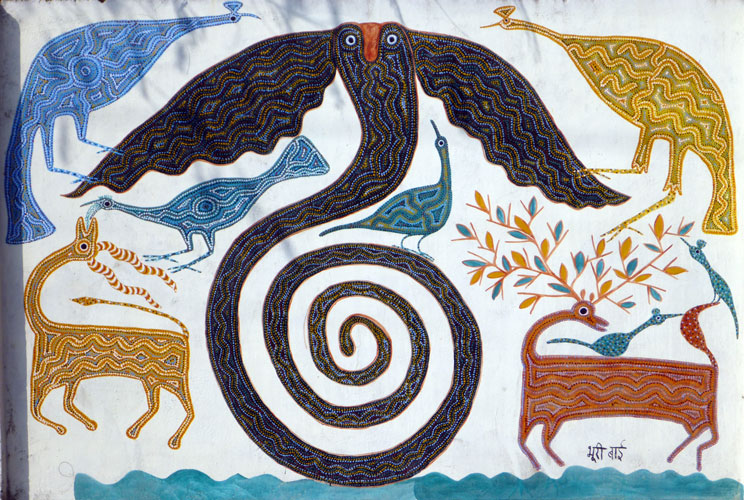 These colorful animals greet you near the Museum of Mankind's main entrance.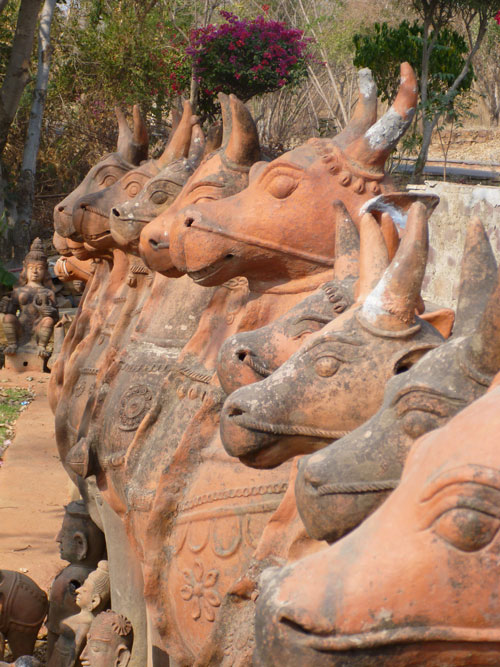 Some tribal groups set up ceramic cows, horses, and other creatures in sacred groves for use by local gods.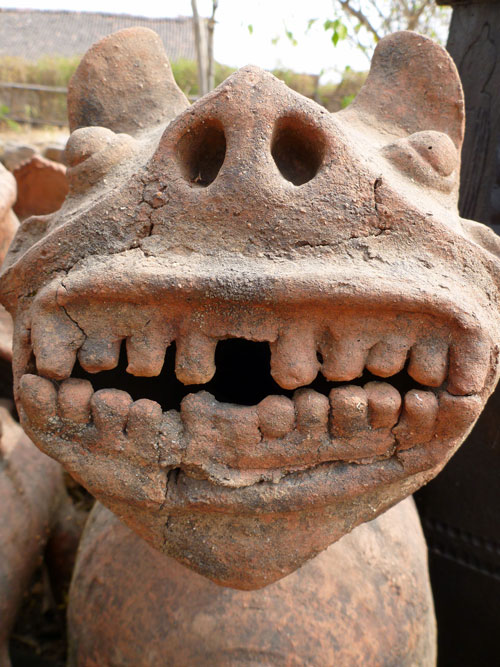 Yes, this doggie needs to see his dentist!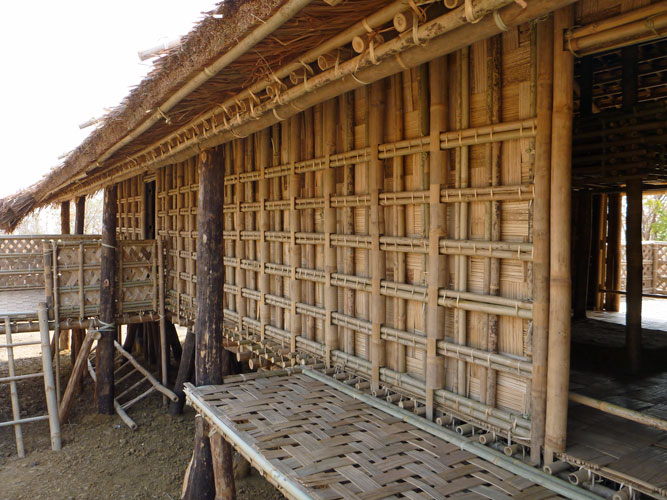 This newly built house of bamboo comes from the Galo Hills in Meghalaya state in northeastern India. The Galo Hills some of India's heaviest monsoon rains.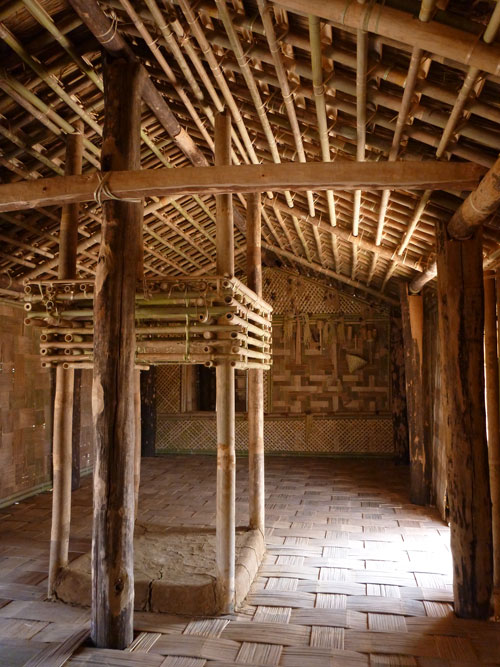 The interior has a very fragrant bamboo scent.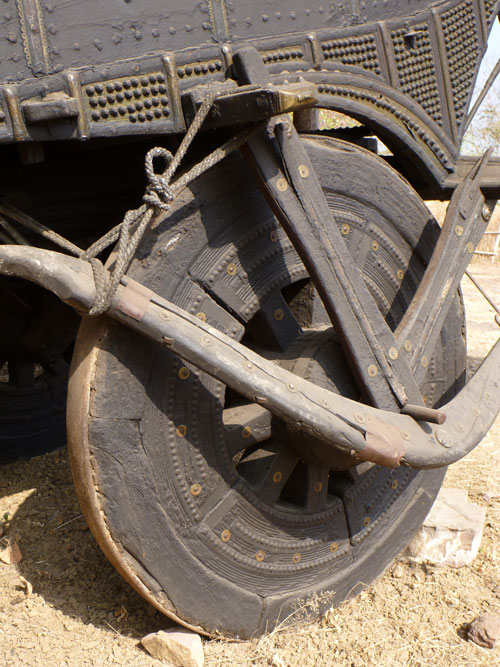 This old cart, probably from Rajasthan or Gujarat, has brass detailing. The suspension system looks doubtful.

This lady plays a drum on the exterior of a Rajwar tribal house from Chhattisgarh.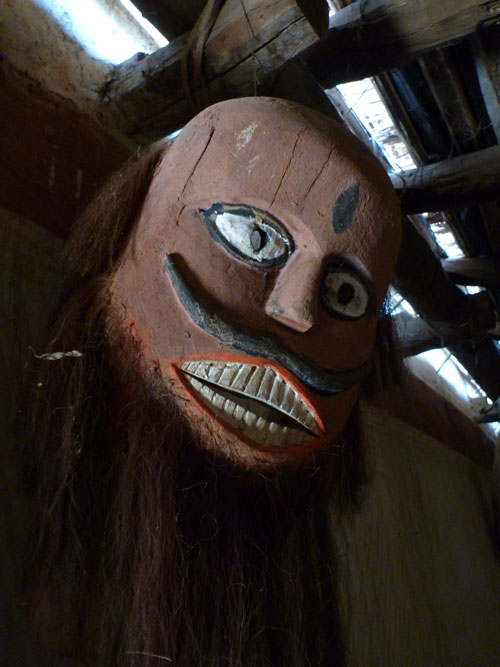 Inside...a scary mask!

This is a rahangki, a boy's dormitory of the Maram tribe in Manipur state of India's far northeast.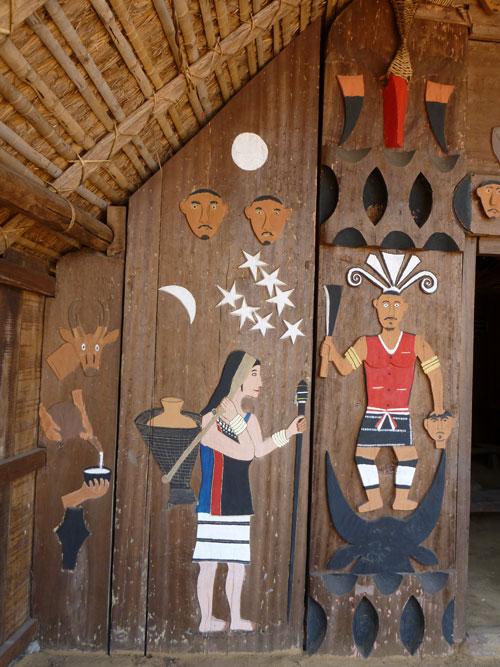 A detail of the rahangki porch with a headhunter warrior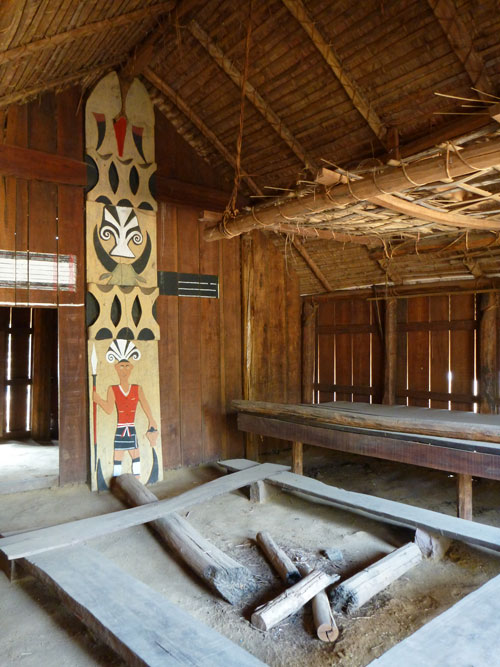 Village boys must have heard many a tale from old warriors inside the rahangkis.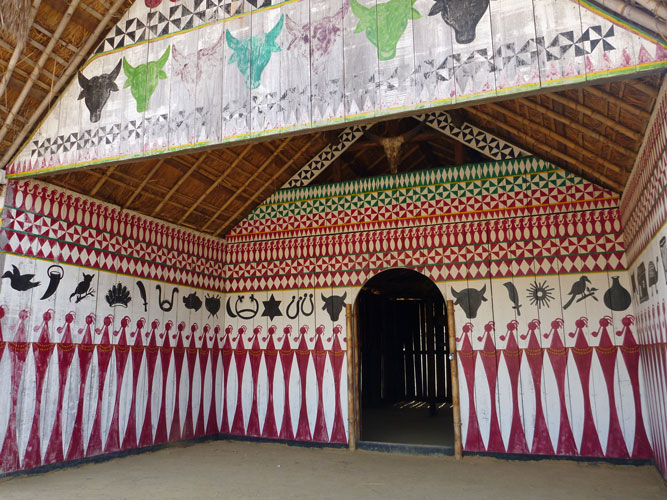 Also from Manipur state, this is a house of the Kabui tribe.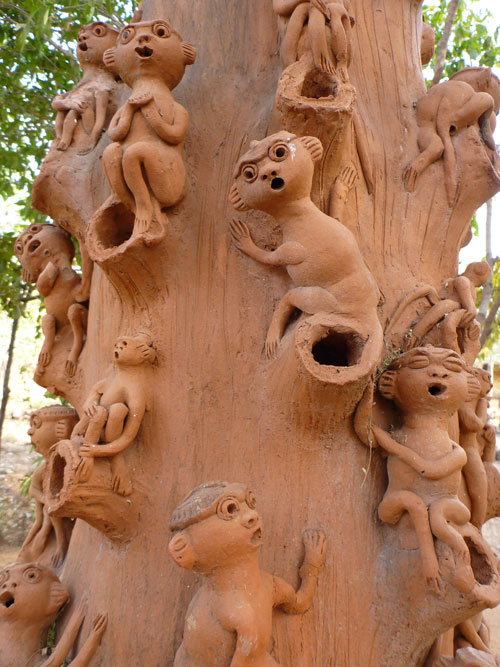 These singing squirrels seem to be having a grand time. (Mythological Trail)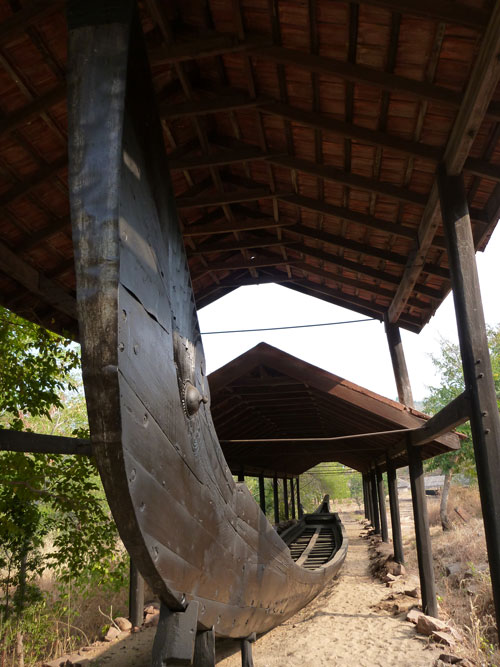 More than 100 men powered this Snake Boat from Kerala state, and 100 of these would assemble for races during the Onam Festival.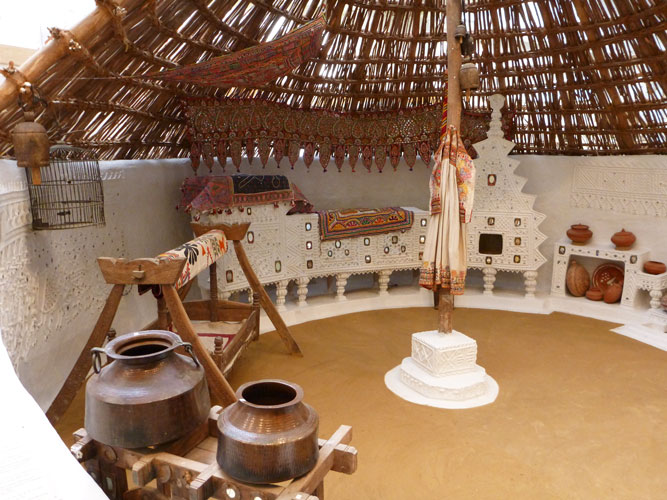 A cut-away of a Rabari house of Gujarat state on exhibit at the indoor museum.
The semi-nomadic Rabari love to decorate their homes and themselves with colorful fabrics and tiny decorative mirrors.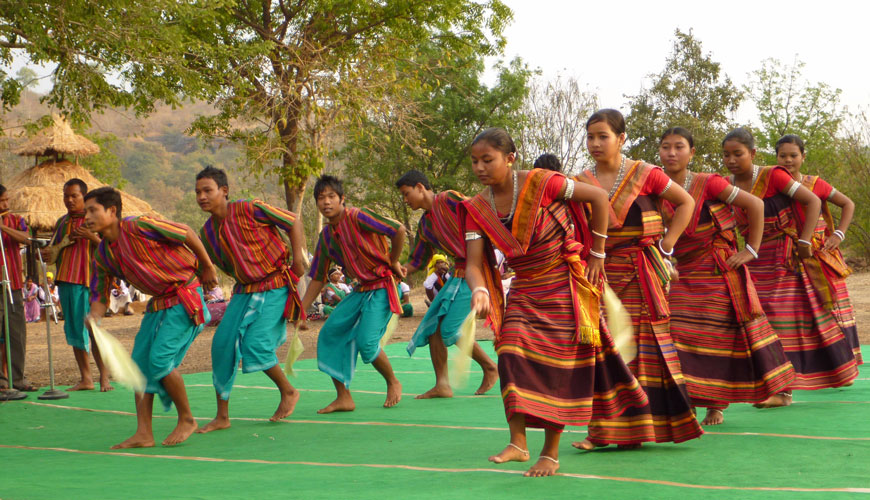 Folk dance by a group from northeastern India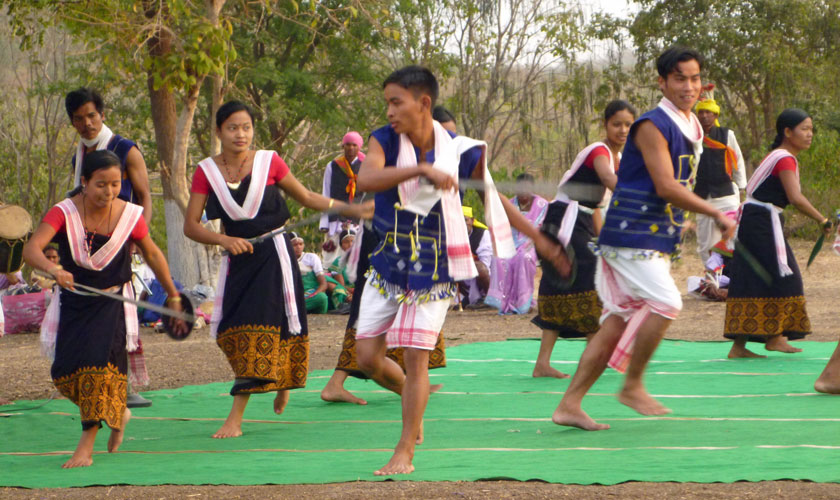 I think this group also comes from northeastern India.
A short walk from the Museum of Mankind took me to the large State Museum and its collection of ancient statuary and newer artifacts, such as miniature paintings. Most of the stone carvings had been smashed up over the centuries; it seems that archaeological artifacts of Madhya Pradesh have suffered more than in other states.
Closer to the lake, Bharat Bhavan is very enjoyable art museum with one large gallery devoted to tribal art and another to contemporary work. One evening I attended a double concert of wonderful Indian classical music, first a performance by a talented young flute artist, then one with a woman singing.
On another day I bounced north 11 kilometers by autorickshaw to Islamnagar, the predecessor to Bhopal. Here Sardar Dost Mohammad Khan, an Afghan soldier of Emperor Aurangzeb, had defeated a Hindu ruler and founded the Bhopal state. Today the fortified complex of three palaces lies in a peaceful village setting, a pleasant place to wander. Chaman Mahal and neighboring Rani Mahal (Queen's Palace) are in good shape, though the rooms tend to be small and austere. A third palace lies in ruin.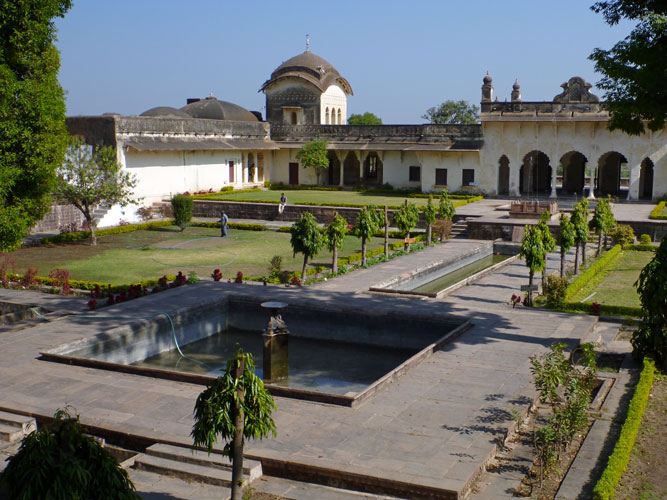 A Mughal garden forms the centerpiece of Chaman Mahal in Islamnagar.
Galleries at the back overlook a river, fields, and a group of tombs.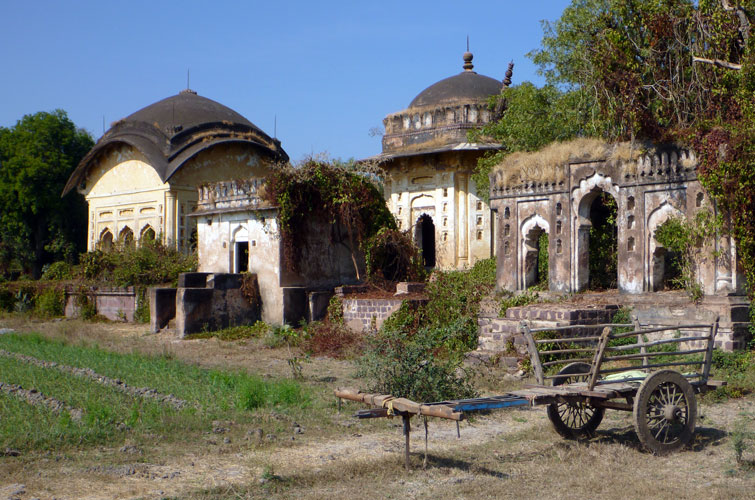 Overgrown tombs of the Islamnagar rulers and their families lie south across the river.
Back in Bhopal, I visited three mosques, each built by a highly respected 19th-century woman ruler of Bhopal.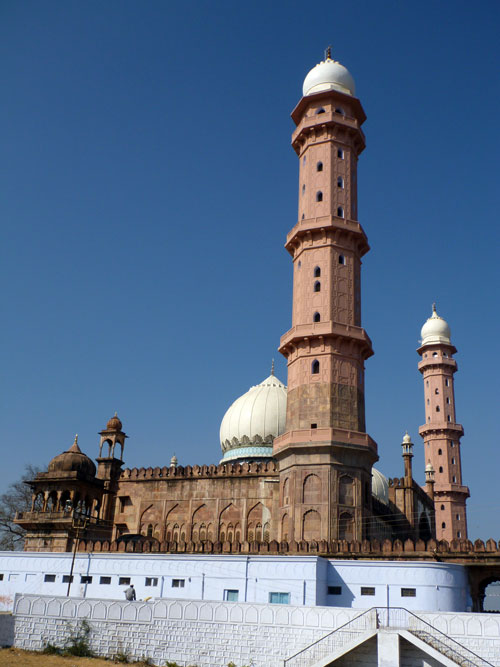 Determined to build the world's largest mosque, Bhopal's third female ruler, Shah Jahan Begum, began work on Taj-ul-Masjid in 1877. The project ran out of funds and took nearly 100 years to finish. Newer mosques now exceed this one in size, but it's still impressively large and beautiful.