Flagstaff and North-central Arizona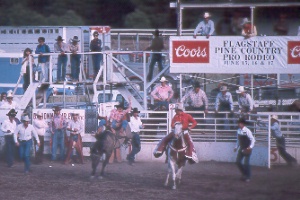 hanging on at the Pine Country Pro Rodeo in Flagstaff;
Cowboys compete at the Coconino County Fairgrounds on the third weekend in June.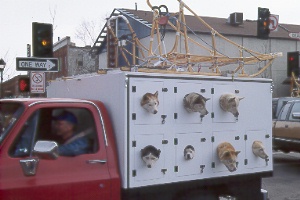 sled dogs in Flagstaff's Winterfest Parade
The Winterfest, held late January-early February, begins with a parade, then offers nordic and alpine skiing competitions, snowboard and snowshoe events, sled-dog races, children's activities, historic walking tours, and entertainment.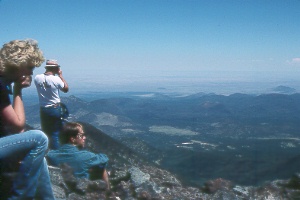 atop Arizona
The summit of Humphrey's Peak (elev. 12,633 ft.) in the San Francisco Peaks is the state's highest. This view to the northeast takes in Sunset Crater and the Painted Desert beyond. The climb to the top makes a challenging day-hike destination. You'll need an early start, as the hike usually requires about eight hours to reach the summit and return on the nine-mile-roundtrip trail. Trailheads lie just northwest of Flagstaff.

Sunset Crater, a beautiful black cinder cone tinged with yellows and oranges, rises 1,000 feet above jagged lava flows about 15 miles northeast of Flagstaff. Although more than 700 years have passed since the last eruptions, the landscape is still lunar-like, with trees and plants struggling to grow.

Eruptions in A.D. 1064 or 1065 sent indigenous people running for safety. By 1110 activity had subsided enough to allow them to settle in the Wupatki Basin, 20 miles northeast of Sunset Crater. You can visit the remains of their community and see a museum in Wupatki National Monument, reached via the Sunset Crater-Wupatki Loop Road and one of the prettiest scenic drives in Arizona. Lava flows and smaller ash eruptions from Sunset Crater may have continued as late as 1280.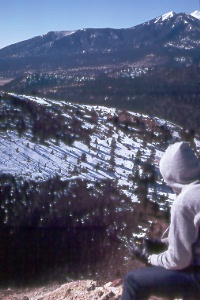 on the rim of Sunset Crater looking west toward the San Francisco Peaks
—the FORBIDDEN VIEW
Rangers at Sunset Crater Volcano National Monument now strictly prohibit hiking on Sunset Crater itself, because earlier climbers wore a deep gash in the soft cinder slopes. The old trails have been closed and the damage repaired so that visitors can fully enjoy the beauty of the crater. The author legally made this climb and photo in January 1972, before closure of the volcano to hikers. Nowadays you can get a fine view of Sunset Crater from nearby O'Leary Peak.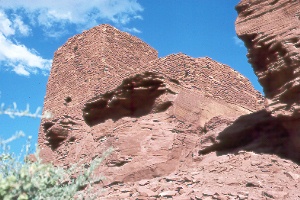 Wukoki Pueblo, northeast of Flagstaff
Indians lived in this small pueblo, the best-preserved structure in Wupatki National Monument, for perhaps three generations. You can step inside the rooms for a closer look. From the Wupatki visitor center, drive a quarter mile toward Sunset Crater, then turn left 2.6 miles on a paved road.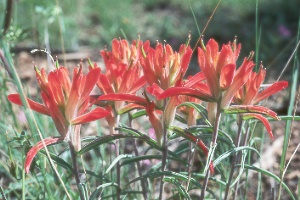 Indian paintbrush
(Castilleja integra), near Flagstaff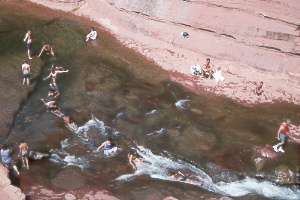 enjoying the water of Oak Creek at Slide Rock State Park, north of Sedona
Slide Rock State Park
Natural chutes and swimming holes at this park in Oak Creek Canyon make a great way to cool off in summer. Other attractions on the 43 acres include a short trail along cliffs above the creek, picnic spots, fall colors, and an historic apple orchard. On the walk to the swim area, you'll see the orchard, farm machinery, old tourist cabins, packing shed, and farmhouse. Some people like to wear jeans for sliding down the rock chutes, as the ride can be hard on the seat. Pets and glass containers may not be taken to the swim area. Slide Rock Market serves pizza, subs, and other snacks (may close in winter). Birds like the area too, and the park office has a checklist. The parking lot fills nearly every day from Memorial Day to Labor Day weekends, and you may have to wait for a spot. For safety, Oak Creek water is tested every day and the report is posted; you can also check the Water Quality Hotline at tel. 602/542-0202 (Phoenix). Occasionally bacteria levels go too high and the swim area may close for the day. Slide Rock State Park is open all year for day use only; tel. 928/282-3034. Slide Rock State Park is in Oak Creek Canyon on the left, 6.9 miles north of the Y in Sedona.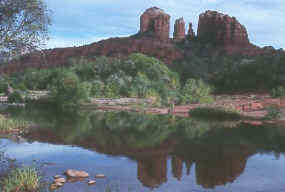 Oak Creek at Red Rock Crossing
This beauty spot is a favorite of landscape photographers and the site of many scenes in old Western movies. To get here from the Y in downtown Sedona, head west on AZ 89A to Red Rock Loop Road and follow signs to Crescent Moon Recreation Area; there's a parking fee.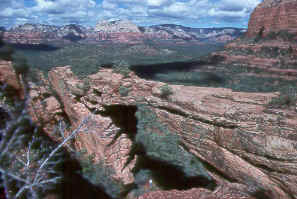 Devil's Bridge
The person standing at the bottom of the arch is barely visible.
Devil's Bridge Trail #120
From the trailhead (elev. 4,600 feet), a well-graded path climbs steadily through juniper, pinyon pine, Arizona cypress, and manzanita to the base of a long natural bridge. You can't see it until you're almost there, but when you arrive, the majestic sweep of the arch and fine views of distant canyons and mountains reward your effort. The 1.8-mile roundtrip hike gains 400 feet in elevation.
Devil's Bridge lies northwest of Sedona on the other side of a ridge. From the Y in Sedona, head west 3.1 miles on AZ 89A, turn right two miles on paved Dry Creek Road (Forest Road 152C), then turn right and go 1.3 miles on the bumpy dirt Forest Road 152. Cautiously driven cars can usually negotiate this road in dry weather; check with the Forest Service in Sedona; tel. (928) 282-4119. The trailhead turnoff is signed; parking is limited at the trailhead. The first part of the trail follows an abandoned jeep road.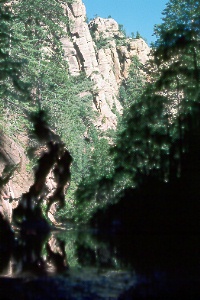 lower West Fork of Oak Creek Canyon
An easy, almost level trail extends about three miles upstream through the narrow canyon of West Fork, a major tributary of Oak Creek north of Sedona. Sheer canyon walls, luxuriant vegetation, and a beautiful clear stream make this an idyllic spot. Because of the quantity and diversity of plant and animal species here, the lower six miles of the canyon has been designated a Research Natural Area. The stream, which you'll cross many times, usually only flows ankle deep; you have the option of wading or stepping across on stones. Carry water and plenty of film. Don't build fires in the Natural Area; check with the Forest Service before camping; tel. 928/282-4119.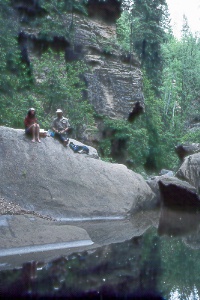 Ellen and Buzz enjoying the tranquility in upper West Fork of Oak Creek Canyon
Although most visitors come for a leisurely day hike, strong hikers can travel the entire 14-mile length of West Fork canyon in one day. It helps to get an early start and arrange a car shuttle. Those making the full trip should start at the upstream trailhead, where Forest Road 231, or Woody Mountain Road, crosses West Fork; Woody Mountain Road begins as a turnoff from Route 66, about two miles west of Flagstaff. The first six miles from the upper trailhead are usually dry, but this stretch is followed by a series of deep pools that may require swimming. Avoid hiking in the canyon after heavy rains or if storms threaten. The rough terrain, fallen trees, and deep pools make backpacking difficult, so most people do the trip as a long day hike.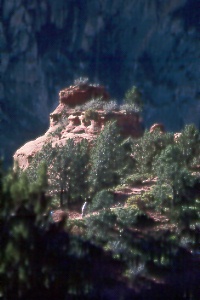 a view from Schnebly Hill Road
You'll enjoy some of the best views in the Sedona area along this bumpy backroad that descends the Mogollon Rim east of town. It's the most spectacular approach to Sedona, but is too rocky for most cars—high clearance vehicles are recommended. Take I-17 Exit 320 for the descent or, from Sedona, turn off AZ 179 at the sign a half mile south of the Y; the drive is about 12 miles one way. Schnebly Hill Vista features a spectacular panorama at about the halfway point. Cautious drivers can usually complete this trip in good weather; the road is closed in winter. The National Forest office in Sedona can advise on road conditions; tel. 928/282-4119. Sedona's famous red rocks belong to the Schnebly Hill Formation, which you'll see a lot of on the drive. Ancient coastal deposits formed the rock.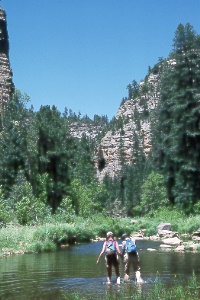 heading up Willow Creek, a tributary of West Clear Creek
The transparent waters of year-round West Clear Creek wind below pretty canyon walls on the way to the Verde River. Of the many canyons in the Mogollon Rim, West Clear Creek has the greatest length—40 miles. Cross-bedded patterns of ancient sand dunes in the Coconino Sandstone show clearly on the sheer cliffs. The creek offers excellent hiking, swimming, and fishing, though it may be difficult to entice the trout onto a hook.
Several trails into the canyon provide a choice of day hikes or overnight trips. Adventurous hikers could spend a week traveling downstream to Bull Pen Ranch or Clear Creek Campground. Or you can day hike to the upper reaches of West Clear Creek and along the tributaries of Willow and Clover Creeks; Maxwell Trail provides the easiest access to this area. It's reached by driving south from Flagstaff on the Lake Mary Road; see the Coconino Forest map. The warmer months are best for a visit to this canyon. There isn't much of a trail, so you'll be wading and swimming much of the time. In spring, snowmelt can raise the stream level too high for hiking, as can very heavy rains in any season. Water is always available from the creek; purify first.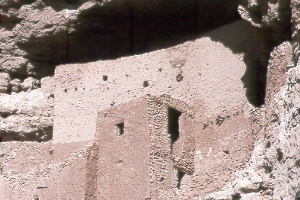 Montezuma Castle, north of Camp Verde
Montezuma Castle National Monument
This towering cliff dwelling so impressed early visitors that they believed the famous Aztec ruler of Mexico had built it. In fact, however, this pueblo was neither a castle nor part of Montezuma's empire. Sinagua Indians built it in the 12th and 13th centuries, toward the end of their stay in the Verde Valley. The five-story stone and mortar structure contains 20 rooms, once occupied by about 50 people. It's tucked back under a cliff 100 feet above Beaver Creek. The overhang shielded the village from rain, snow, and the hot summer sun but allowed the sun's low winter rays to warm the dwellings. The ruins are well-preserved but too fragile to be entered, so you must view them from below. An even larger pueblo, Castle A, once stood against the base of the cliff; it had six stories and about 45 rooms, but little remains today. A level, one-third-mile trail loops below Montezuma Castle to the foundations of this second ruin.
The visitor center displays Sinagua artifacts and offers exhibits depicting the people's everyday life, as well as the plants, animals, and geology of the Verde Valley. Related books, videos, and maps are sold. Giant Arizona sycamore trees shade a picnic area beside the river. Montezuma Castle National Monument is open daily, tel. 928/567-3322, www.nps.gov/moca. Take I-17 Exit 289 and follow signs two miles; from Camp Verde, drive north three miles on Montezuma Castle Road, then turn right two miles at the sign.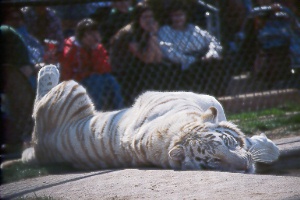 tigers do as they please at Out of Africa Wildlife Park
Out of Africa Wildlife Park
This unusual zoo features big cats from all over the world. Shows demonstrate the relationships between felines and humans. You can see the cats in both near-natural habitats and shows, including the very popular Tiger Splash in which staff jump in a pool and encourage the tigers to follow! Cubs may put in an appearance in other demonstrations. Colorful birds include cockatiels and a keel-billed toucan. Powerful gray and arctic wolves roam their territories. Pythons, a king cobra, and other scaly friends dwell in the reptile exhibits. Creatures such as coati, gray fox, javelina, and black-tailed prairie dogs represent Arizona wildlife. The park is now in the Verde Valley; check the website www.outofafricapark.com.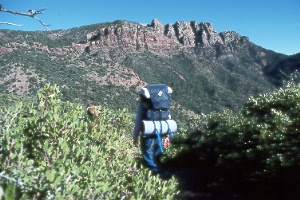 Mazatzal Peak (elev. 7,903 ft.)
Native Americans knew this vast country of desert and mountains as Mazatzal, "Land of the Deer." The name still fits, as only scattered ruins tell of the Indians, pioneers, and miners who tried to live here. Mazatzal Wilderness covers over 252,500 acres beginning eight miles west of Payson and extending 30 miles south. Climate zones range from the Lower Sonoran Desert, with saguaro and palo verde (2,200-4,000 feet); up through the dry grasslands, oaks, pinyons, and junipers of the Upper Sonoran Desert (4,000-7,000 feet), to the Transition Zone, with ponderosa pines and a few pockets of firs on the upper slopes (7,000-7,900 feet). You might meet deer, javelina, black bear, or even a mountain lion. Hikers in this big country should be self-sufficient with maps, compass, and water; you can't rely on springs and streams in the summer.
On to Grand Canyon and the Arizona Strip
Back to beginning of Arizona Color Pages
Home