THAILAND EPILOGUE -
THREE MEDITATION RETREATS IN THE SOUTH

Two Days in Bangkok
The flight on Air Asia airasia.com to Bangkok went well. The airline claims to be the world's best low-cost carrier, and that may well be true. My ticket of $81 for a three-hour international flight certainly was a bargain. I would have paid even less if I had only carry-on luggage and had skipped the meal and seat selection, though these add-ons were cheap enough when booked online in advance. The Airbus soon climbed above Kolkata's clouds, though haze blocked views during the flight across the Bay of Bengal, Myanmar, and eastern Thailand.
Bangkok's Suvarnabhumi International Airport never seems to have enough immigration staff, and the lines were the worst I had ever experienced. After an hour of waiting and seemingly getting nowhere in the foreigner's lines, an immigration officer waved me over to a counter for Thais, which had no line at all. One suspects that Thai Immigration officials would prefer not to be bothered with foreigners. At last I was in Thailand, and for the full 60 days that my tourist visa allowed! A big change at the airport had occurred last year: a new elevated train line now carries passengers directly into the center of Bangkok, and the airport buses that I had taken on past visits had stopped running. So to reach my usual haunt of the New Merry V Guesthouse on Phra Athit Road in Banglamphu, I took the train to the end of the line, then a taxi to the guesthouse. All of the cheaper air-conditioned rooms were full, so I splurged one one of the very pleasant and wonderfully quiet deluxe rooms in the back building for about $18; it was like heaven after the stained walls and cacophony of my hotel in Kolkata. As usual, arriving in Thailand from India was like going from a third-world country to a first-world one; the air was much cleaner, streets smooth, and most everything clean and new looking.
Feeling run down from the intestinal bug and minor cold picked up at the end of the Kolkata visit, I spent my first full Bangkok day resting and surfing the Internet in my room. The following day I had an appointment for a dental check-up, so I took the Chao Phraya river boat, the SkyTrain, and the underground Metro to BIDC, www.bangkokdentalcenter.com; teeth were fine and the cost to see a periodontist specialist was less than half that of a regular dentist visit back in the USA. Next, I swung by my favorite food stop, the vegetarian food court near the Ari SkyTrain station and had some curious strips of fake meat on wooden skewers and wrapped in seaweed; tastier than it sounds. Although my energy level was low, I visited the Bangkok Art & Culture Centre www.bacc.or.th beside the National Stadium SkyTrain station and enjoyed a look at several contemporary art exhibits; a French photographer/sculptor had logic- and gravity-defying photos in The Upside Down World of Philippe Ramette in which the artist, nearly always dressed in a suit, "stood" in landscapes that have been turned on end or in underwater seascapes. Higher up on the 9th floor, Thai artists had varied photo and painting exhibitions, including photos by the very popular Princess Sirindhorn.
On my last morning in Bangkok, I walked over to the Queen's Gallery www.queengallery.org, which had three floors of colorful Thai paintings, many incorporating themes of traditional Thai art and religion.
Dipavan Meditation Retreat on Koh Samui
While in India and tiring of breathing the dirty air of its cities, I read about meditation retreats on Thailand's Koh Samui and thought how wonderful living in the forest and taking in fresh sea breezes would be. So I signed up for the February 7-day Dipabhavan Meditation Retreat, www.dipabhavan.org. Ajahn Poh of the famous Suan Mokkh monastery had grown up on Koh Samui and supported the establishment of this retreat center so that foreigners visiting the island would have the opportunity to learn of the Buddha's happiness. I had met Ajahn Poh at Suan Mokkh on my first visit to Thailand in 1983 and first learned about Buddhism and meditation from books by Suan Mokkh's founder, Buddhadasa Bhikkhu (1906-93). The following year I returned to Suan Mokkh and also attended a retreat sponsored by Ajahn Poh on Koh Samui. An American teacher, Alan Clements, taught the 10-day retreat, entertaining us with stories from when he was the first American monk to ordain in Burma. Everyone enjoyed the early morning meditation sessions on the beach during sunrise. Before and after that retreat I had a fine cycle ride around Koh Samui, a ride of about 100km. I hadn't been back to the island since then, and it had developed dramatically with an airport and countless more resorts, many upscale. But then as now, I was here just for a meditation retreat.
The hardest part of going to Koh Samui is reaching the Southern Bus Terminal on the outskirts of Bangkok. I bought a ticket at a local travel agency, but the transfer to the bus terminal took an excessive 1.5 hours of mostly standing and waiting, then I nearly missed my bus. Worse, the actual bus ticket turned out to be less than half the price what I had paid the agency; I should have just taken a taxi to the bus terminal and bought a ticket there. I was on an overnight government bus, which mercifully played just one Thai comedy video and not the violent movies favored by tourist buses. The bus rolled directly onto a big ferry at Don Sak in the pre-dawn hours, though us passengers moved to seats aboard the boat for a brief and calm trip to Koh Samui. On land, we got back on the bus for the short ride to the island's main bus station, where I caught a songtaew (pickup truck with bench seats in back) to the Muslim fishing village of Hua Thanon on Koh Samui's southeast coast. Arriving just after sunrise, I walked through the village market area and past the new mosque. Mostly small boats lay at anchor just offshore after having gone out to net mostly small fish, now drying in the sun. The market also had some large fish and many squid, the latter caught in open-water traps.
The retreat office in town arranged transport high up the hillside to a beautiful garden site surrounded by jungle on three sides with views out to sea on the other. The retreat schedule was a bit easier than most: Instead of getting up at 4 a.m., we got to sleep in until the loud bell rang at 4:30 a.m. A morning reading started off the first morning sitting meditation, which is my favorite of the day as my mind was usually calm and not sleepy then. Next came a workout of yoga, and we were lucky to have a skilled volunteer from Ireland to lead it. Ajahn Poh gave short talks on meditation and we listened to recorded translations of talks by Buddhadasa Bhikkhu. As is the Thai custom, we had a daily afternoon period of chanting Buddhist verses, both in the ancient Pali language and in English. Food was very simple with just two meals a day, a monotonous rice porridge for breakfast and a couple vegetarian dishes with rice for lunch. Before eating, we would recite a food reflection about why we eat. In late afternoon we had a break with a choice of tea, instant coffee, or a very sweet hot cocoa. Our group of 65 members was mostly young travelers along with a handful of older folk. Many Russians had come, and they listened to talks given separately by a Polish monk from Suan Mokkh who spoke Russian fluently. Otherwise the retreat was a silent one and we weren't allowed to have cell phones or listen to music. Instead, birds and insects serenaded us with sweet sounds. The open-sided meditation hall caught the cooling breezes and provided a fine view of the sea in its myriad hues of blue. Rain fell only once, a tropical deluge that briefly passed by. The hardest part for me was the dormitory—when 30+ people are sleeping together there will be noise; I kept my sanity by using ear plugs, yet could still clearly hear the morning bell. On the last full day, we traveled by vehicles to the Garden of the Dhamma's Drum, another meditation site even higher in the mountains. Here we had a talk and sitting meditation along with enjoying expansive views of jungle hills, coastline, distant islands, and the mountainous mainland. We weren't supposed to be taking photos during the retreat, so I didn't snap any until the last day when the silence ended—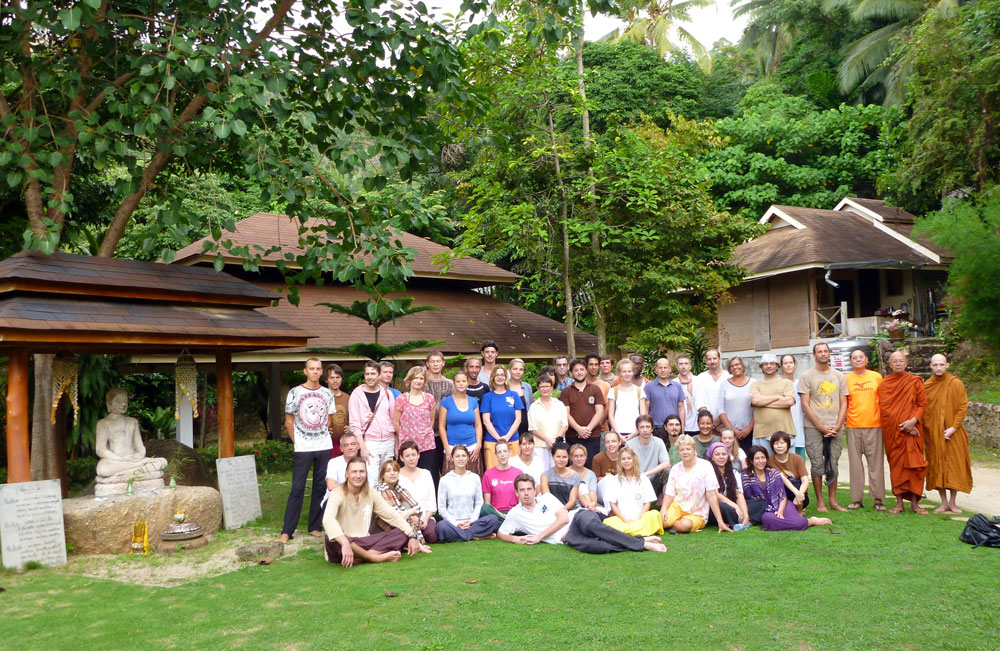 Our group photo before we departed at the end of the retreat.
Ajahn Poh is standing second from the right. The Polish monk on the far right gave teachings to the Russians.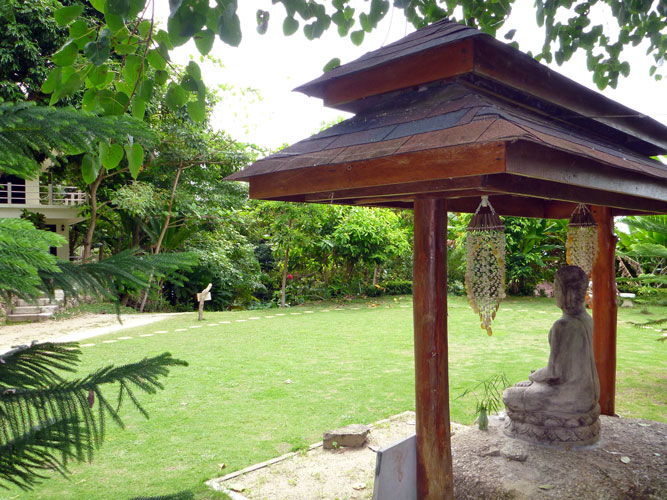 At night we had group walking meditations that followed the little concrete circles clockwise around this Buddha statue.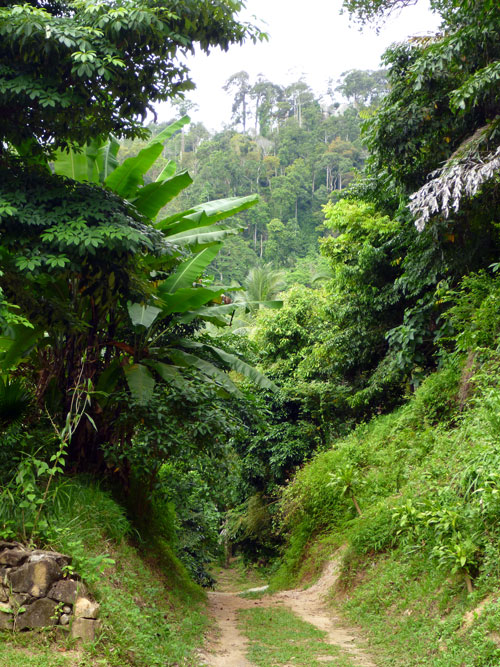 Dense jungle begins at the edge of the retreat center.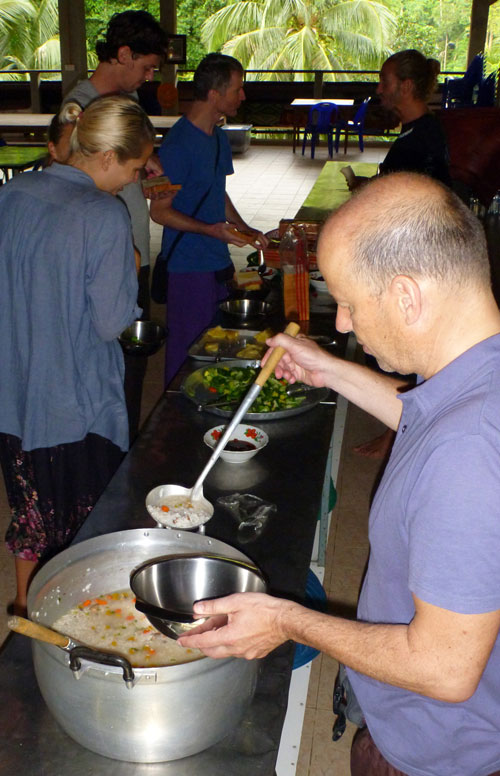 Breakfast was always the same: A rice porridge with bits of vegetables. To this we could
add a little soy sauce, more veggies, sliced pineapple, and bread with margarine and jam.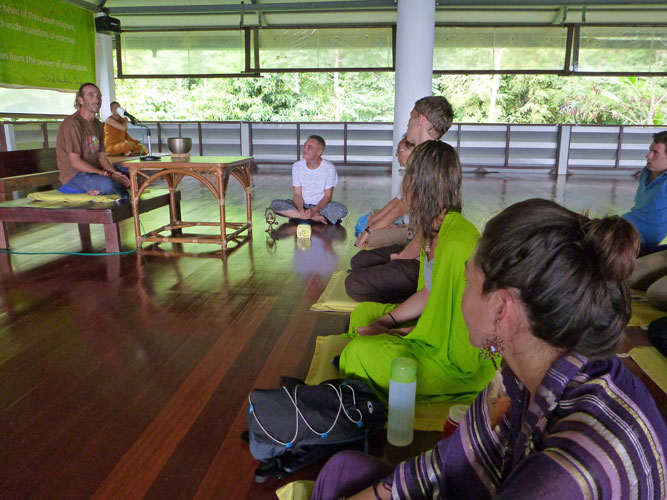 At the end, we had a group meeting in which everyone could speak a bit about their experiences of the retreat.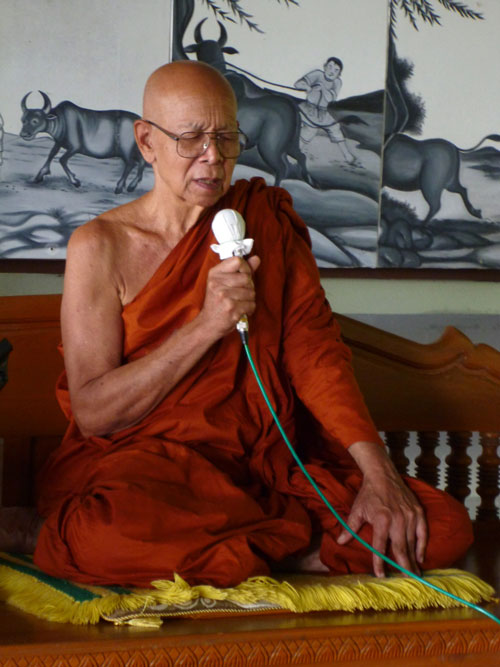 Ajahn Poh had the last word, encouraging us in meditation practice. The paintings
behind him illustrate a Zen story that compares the training of the mind with training an ox.
Suan Mokkh International Retreat on the Mainland
Three meditation retreats in a row? Yes, two more! At the end of the Dipabhavan retreat, I got a comfy room in Hua Thanon in the same building as the Dipabhavan office for two nights and had time and a wifi connection to update this website and catch up on e-mail. Next I headed for the 10-day retreat at Suan Mokkh's international retreat center, http://www.suanmokkh-idh.org that began with registration on Feb. 29th. So early that morning I waited on the road for a songtaew to the ferry terminal. There a woman got me a boat-bus combo ticket for an hour at sea, then the 1.5-hour bus ride into Surat Thani. A strange thing happened on the way: when I arrived in town I discovered that someone had rifled through my pack, which had been on the bus during the ferry trip. My first aid kit had also been gone through. Yet I didn't find anything missing. Strange. In Surat Thani, people pointed me down a side street where I finally found a mini-bus headed for Chaiya, and I got dropped off right in front of Suan Mokkh monastery.
In 1983 I had bicycled past Suan Mokkh (Garden of Liberation) on the way from Malaysia toward Bangkok, and stopped off to see this unusual spiritual center, founded by one of Thailand's most unusual monks, Buddhadasa Bhikku. As a young monk, he wasn't satisfied with the Buddhist scholarship of the time, and had begun his own investigations into the oldest Buddhist texts to discover what the Buddha had taught, then put the words into meditative practice. He later related his experiences in talks to his monks and visitors. Many of these teachings had been translated into English and I found them to be the first clear explanations that I had read of Buddhism. On my 1983 visit I wandered around the monastery, full of monks undergoing a three-month training program, at the end of which they would return to lay life. A large hall served as a Buddhist theatre of lively paintings about aspects of Buddhist meditation and the perils and joys of following the path to enlightenment. What began as a quick visit of a day or two stretched out to two weeks as I learned more about the Buddha's teachings and began to try this strange thing called meditation.
On several later visits I had attended a couple retreats here and practiced on my own, staying in a little hut in the dense jungle. Now I was back for the ten-day retreat at Suan Mokkh International, a large center nearby in a vast tropical garden of ornamental plants, big banyan trees, and fruit trees. Ajahn Poh, whom I had met on my first visit to Suan Mokkh, had supported establishing the retreat center and often came to our retreat to give a short talk or just sit with us even though he was now 80 years old.
If you would like to read about the Buddhist meditation technique taught at Suan Mokkh, there's a short version at http://www.suanmokkh.org/archive/aps/mwb-abc1.htm and a long one at http://www.buddhanet.net/pdf_file/anapanasati.pdf.
I registered, then had an easy afternoon until the retreat began in the evening. Each of us had our own little room, all facing a grassy courtyard. Mindfulness and long hours of meditation proved very challenging for most of us. Training the mind is tough work! About 121 people started out, but some found the going too difficult and dropped out, leaving 99 people at the end. The teachings and food followed the same pattern as at Dipabhavan on Koh Samui, with the main difference that the schedule was a bit tougher with more and longer sitting and walking meditation sessions. The same yoga teacher we had at Dipabhavan also led yoga workout sessions for the men here. The late afternoon chanting gave me some extra energy at the time of day when I felt the most tired. The hot cocoa drink and a soak in the hotsprings that followed also perked me up for the evening meditation and group walking. The retreat coincided with the full moon, which made the nighttime group walking sessions especially enjoyable. This full moon also marked the annual celebration of Māgha Pūjā, a miraculous event said to have occurred nine months after the Enlightenment of the Buddha; without any prior invitation, 1,250 enlightened disciples gathered to see the Buddha that full-moon evening; the Buddha then gave his "Ovadhapatimokha" sermon about ceasing from doing all evil, doing what is good, and purifying one's mind.
The retreat ended on the morning of March 11th with a group sharing session and words of encouragement. Afterward we could pick up free books by Buddhadasa Bhikkhu in English and other languages. We couldn't take photos or use electronic gadgets during the intensive retreat, so I waited until the final morning to snap these photos of the retreat center: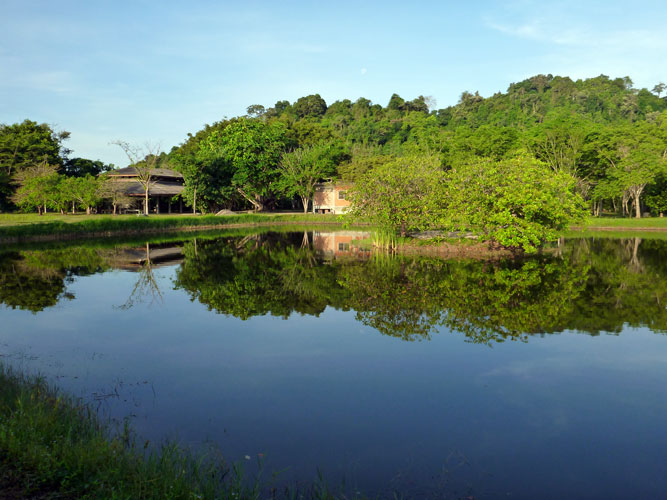 This large square pond has an island in the middle. Lots of frogs live along the pond's shore, but must be wary of a water monitor that stalks them. During nights, the men joined in a group walking meditation around the pond under the moonlight. Women circumambulated a round pond just out of view to the left. All of us gathered for chanting in the open-sided hall on the left during the late afternoons.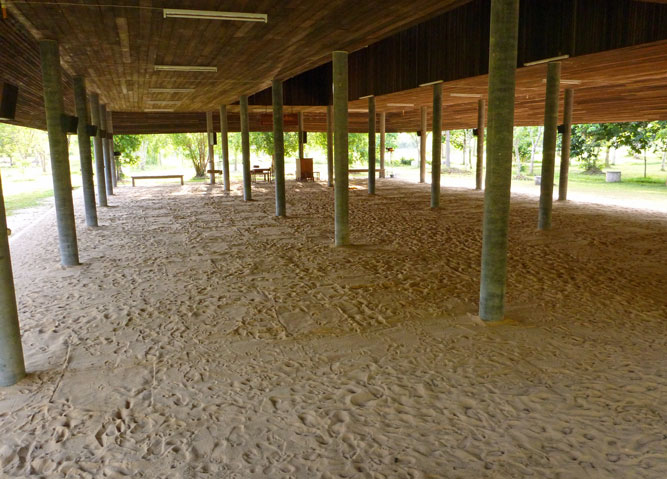 We gathered in this hall, a giant sand box, for sitting meditation. The garden setting and open-sided hall helped keep us cool with pleasant breezes. Following Thai custom, men and women sat on separate sides here and in the dining hall.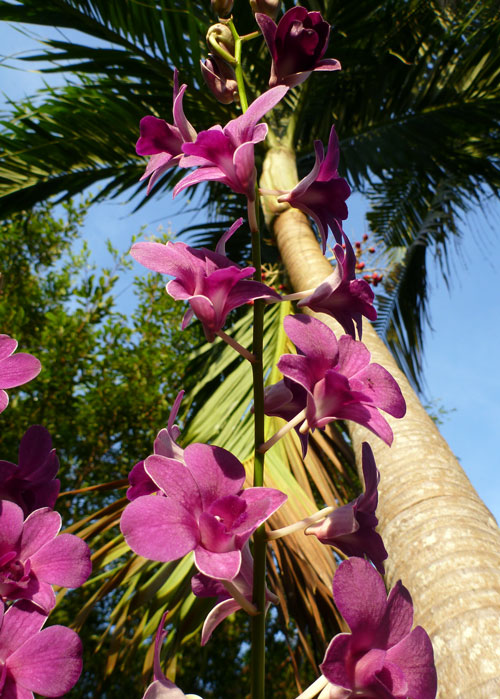 Orchids and flowering trees added color to the retreat center.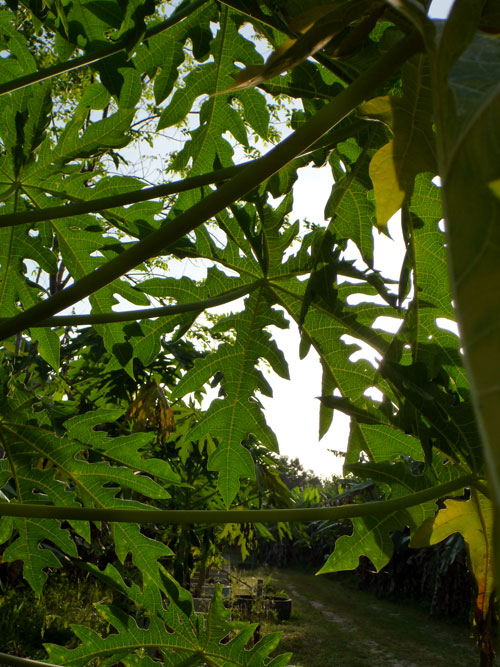 A papaya grove, with banana plants in the distance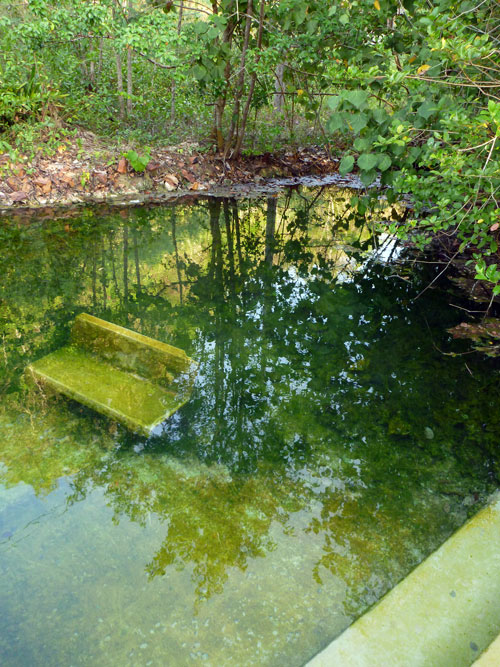 Ahh, at the end of the day we could soak away our weary bodies in hot springs!
This one was just for men and was super hot, not for wimps. Women had their own secluded pool nearby.
After the retreat we all had the option of going over to the main Suan Mokkh monastery for breakfast and a guided tour of the grounds. I skipped the tour and just wandered through the thick jungle setting on my own. Sweat dripped off from the high humidity and lack of breezes in the jungle; I was glad to have done the retreat in the far more open setting of the retreat center. On one stony trail I met a snake who ignored me as I walked by. Buddhadasa Bhikku was still living during my first visits, though I didn't talk with him. The monastery remains much the same now as then, except that his former modest living quarters have been preserved as a memorial.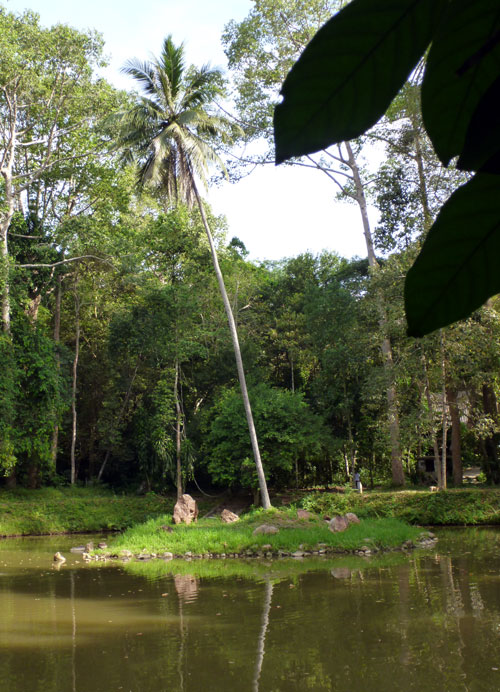 A coconut palm grows on a tiny island at the main Suan Mokkh monastery.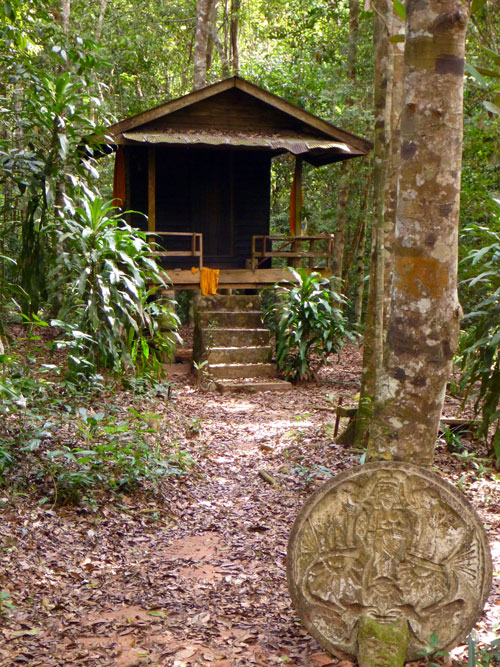 "Live simply, aim high" was the motto of Buddhadasa Bhikku, who founded Suan Mokkh.
This is a typical monk's hut. That's a mold for Buddhist art in the lower right corner.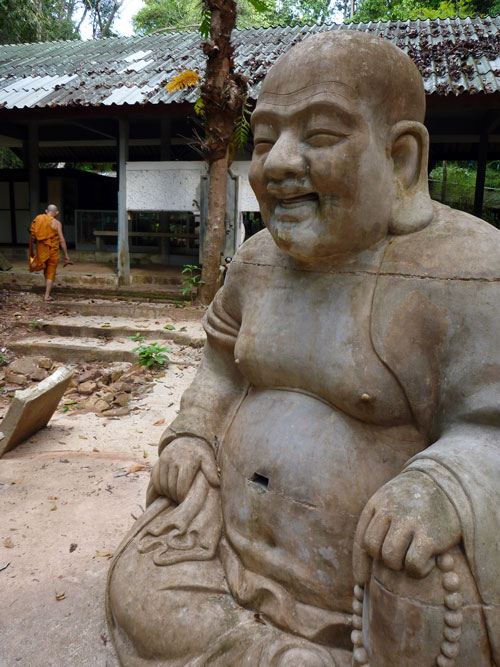 The Sculpture Gallery at Suan Mokkh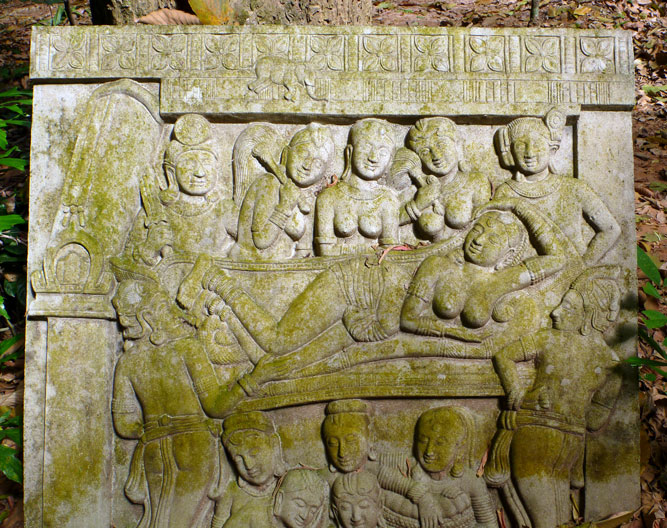 Buddhadasa Bhikku traveled to India and brought back photos of ancient Buddhist art, which monks at
Suan Mokkh then reproduced. This young lady looks very content, but I don't know what story the scene represents.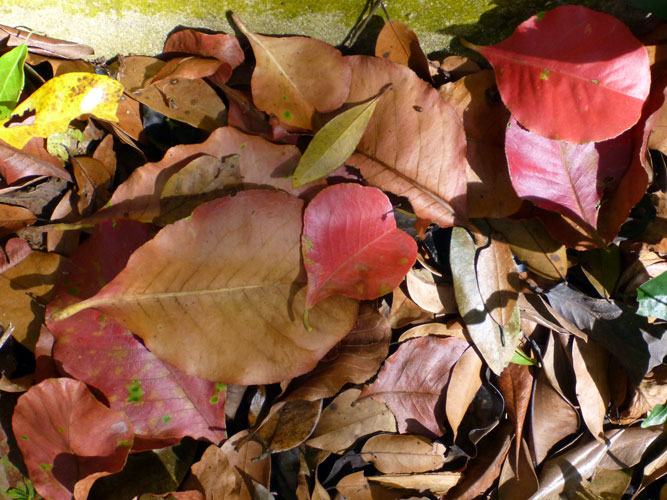 Tropical trees at Suan Mokkh loose their leaves according to their own rhythms as there's no autumn here in the tropics.
Wat Kow Tahm Retreat on Koh Phangan
As soon as the Suan Mokkh retreat ended, I returned to Surat Thani town and caught a bus/ferry to Koh Phangan, the next big island north of Koh Samui, so that I would be early to register for the 10-day Wat Kow Tahm retreat of March 13-22, http://watkowtahm.org. The teachers Steve and Rosemary Weissman have been leading retreats at this center since 1988, and pack a lot of techniques and teachings into the ten days. It's the best taught and organized of all the many retreats I've done. I highly recommend attending one, held most months at Wat Kow Tahm and occasionally in Germany, Australia, and the USA. Most of the retreat teachings are in their book, With Compassionate Understanding: A Meditation Retreat, available at www.amazon.com/exec/obidos/ASIN/1557787697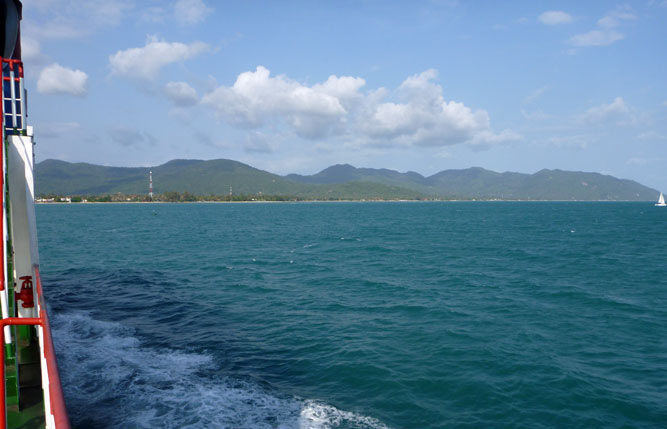 Nearing Thong Sala, the main town and port of Koh Phangan, on the big Raja car ferry.
Wat Kow Tahm is atop the lower ridge in the center, though not visible in this view.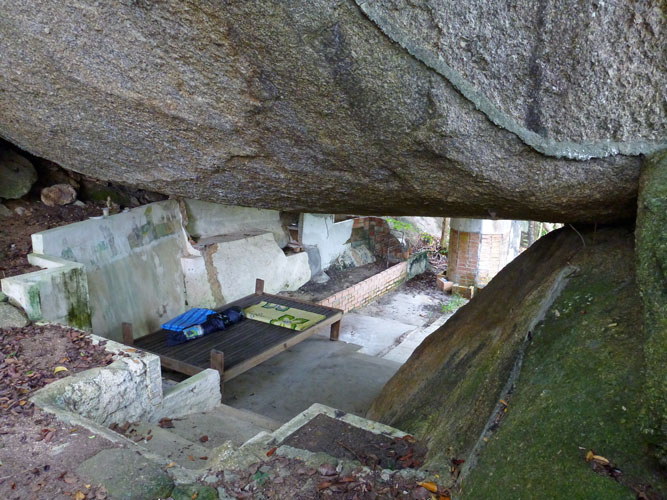 This is the rock shelter that inspired the name for Wat Kow Tahm (Mountain Cave Monastery).
A giant granite boulder forms the roof of the "cave."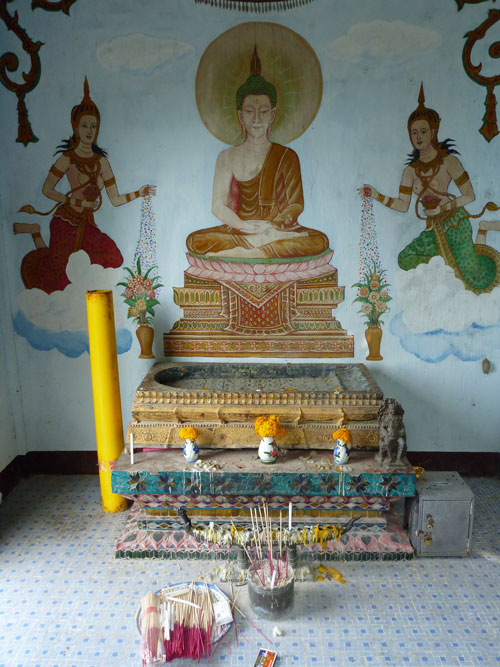 Auspicious symbols cover the Buddha footprint at this little shrine beside a viewpoint in Wat Kow Tahm.
Thai visitors place the three traditional offerings of flowers, candles, and incense.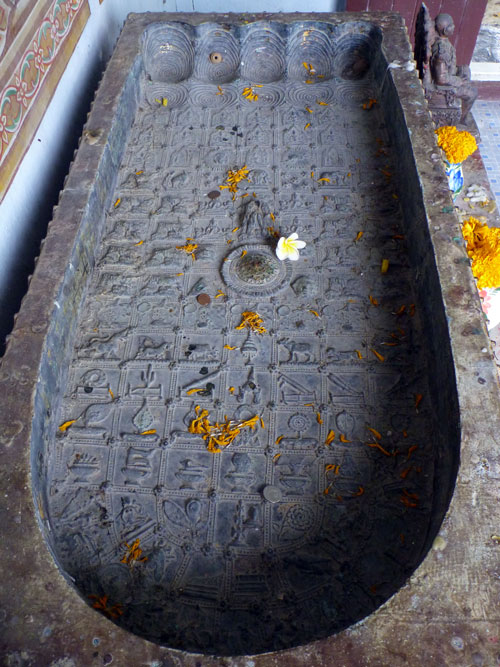 The footprint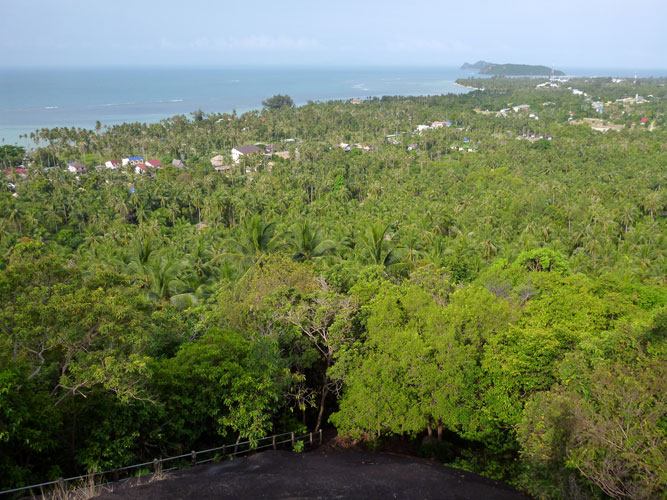 The view of Koh Phangan and Gulf of Thailand from the Buddha footprint shrine at Wat Kow Tahm.
The "cave" is out of sight below to the right and the main town of Thongsala is in the distance on the right.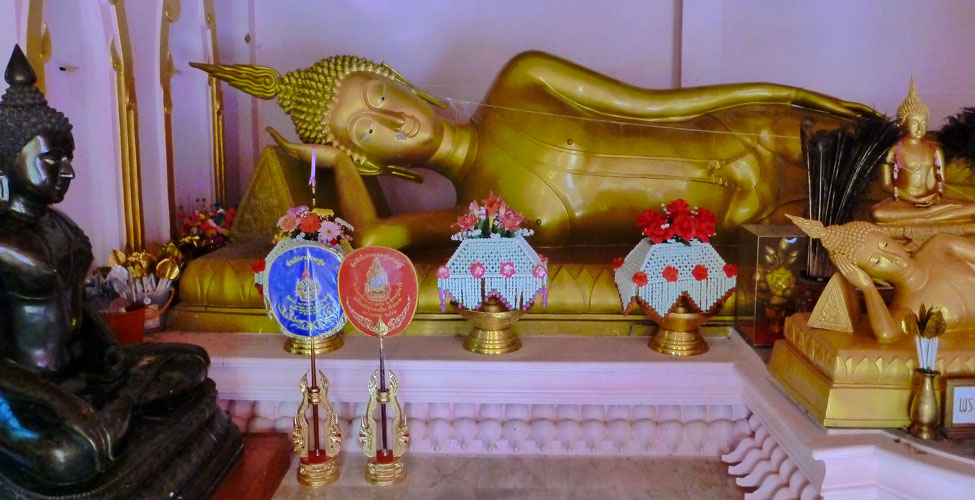 The main temple at Wat Kow Tahm shelters a large reclining Buddha and many other statues.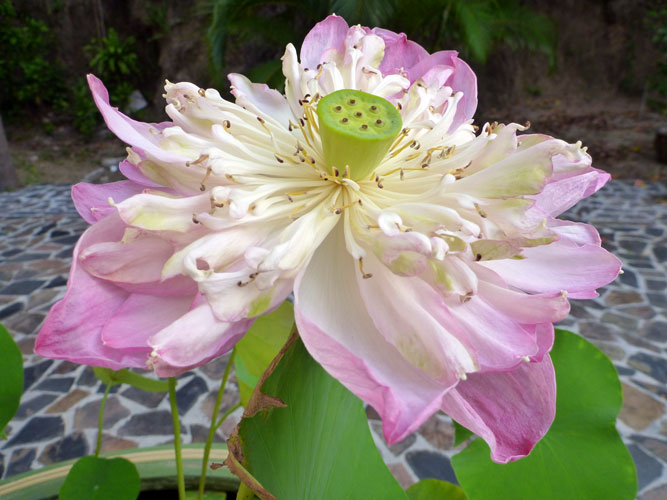 Transient Beauty
Two tiny lotus ponds—pots just a meter across—stand in front of the reclining Buddha hall.
At night, frogs visit the tiny ponds to sing their songs. All petals of this flower had blown away the next day.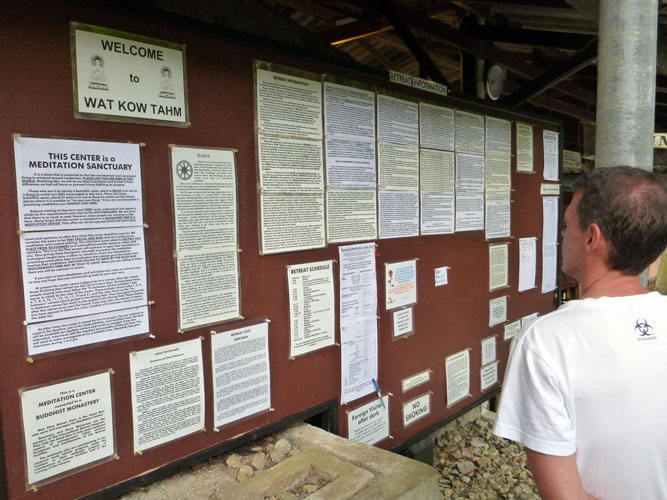 Before registering for the retreat at Wat Kow Tahm, we had to read this formidable list of explanations and rules!
After reviewing all the requirements and rules, I filled out a detailed application, then had a short interview with Steve Weissman and was accepted. I lucked out in getting a room in the new men's dorm, a solid concrete structure unlike the creaky old wooden dorms; my room had two bunks, a bright interior, tiled floor, and even a bit of a sea view through the trees. A little later my roommate Mark Boyd rolled in, a writer/photographer from the U.K. who specializes in fishing articles. He has written up his retreat experience in a humorous and slightly irreverent blog at http://tracktheboyds.blogspot.com/2012/03/big-buddha-house-silent-retreat.html
About 40 people attended the retreat, and I think only 3 dropped out despite the rigorous schedule. The retreat environment was very supportive, both from the teachers and the 10 assistants who helped manage everything. My favorite sitting meditation was the early morning session, before the mind had a chance to be clogged up with silly thoughts. I also got into the walking meditations, which can have short periods of calm between the thought trains. The yoga session, organized by Rosemary, had a flowing quality and helped adapt the body to rigors of sitting meditation. Food was very good Thai vegetarian for breakfast and lunch, then a fruit salad most afternoons at Tea Time. The daily schedule went like this—
4.00am The Morning Bell - we had 45 minutes to wake up and get moving
4.45am Sitting Meditation
5.30am Yoga (The teachers first became interested in meditation through their yoga practice.)
6.30am Sitting Meditation
7:00am Breakfast
8.15am Working Meditation (My job wasn't until evening, so I could do lying down meditation in my room for this period!)
9.00am Walking Meditation
9.25am Teacher's Talk
9.45am Sitting Meditation
10.30am Walking Mediation
11.00am Lunch
1.00pm Walking Meditation (Folks aged 50+ could skip this heat-of-the-day session, and I usually did.)
1.45pm Standing Meditation (Seemed more like sweating meditation some afternoons.)
2.45pm Walking Meditation
3.45pm Sitting Meditation with option of 15 minutes of standing at the end
4.30pm Walking Meditation
5.15pm Tea (My job was pot washing and other cleaning up afterward, a bit hectic as time was tight.)
6.15pm Sitting Meditation
6.45pm Standing or Walking Meditation
7.15pm Teacher's Talk
8.25pm Day over (I took my bath at this time, done Thai style by pouring cold over my sweaty bod with a dipper from a barrel.)

Our group photo at the end of the retreat. Mae Chee Ahmon is seated in the middle; she is in charge of Wat Kow Tahm and invited Steve and Rosemary Weissman (to her right and left) to teach meditation here in 1988 and they have been doing so every year since!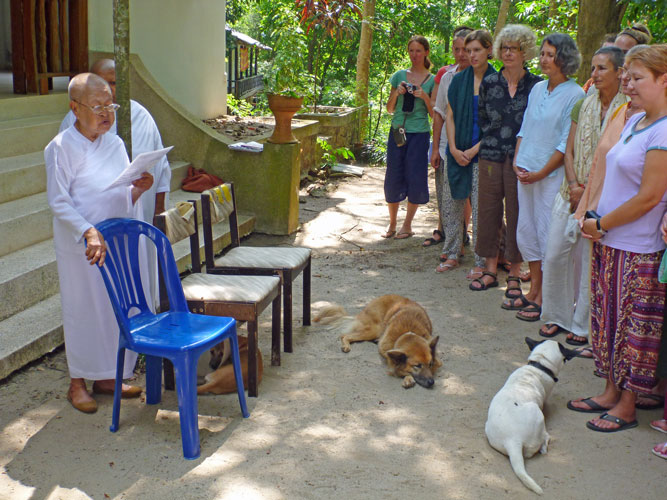 Then Mae Chee Ahmon gave us words of encouragement to continue meditation practice and do good in the world.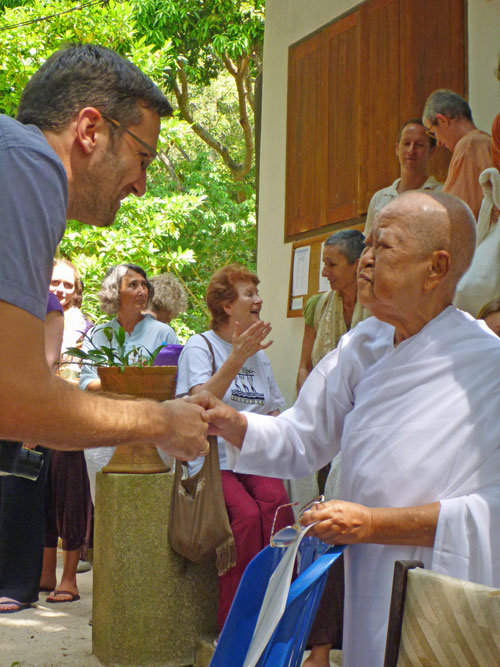 Mae Chee Ahmon gave her blessings to each one of us.
Patrick Wolf from Germany (now lives in USA) has worked as an assistant at Wat Kow Tahm.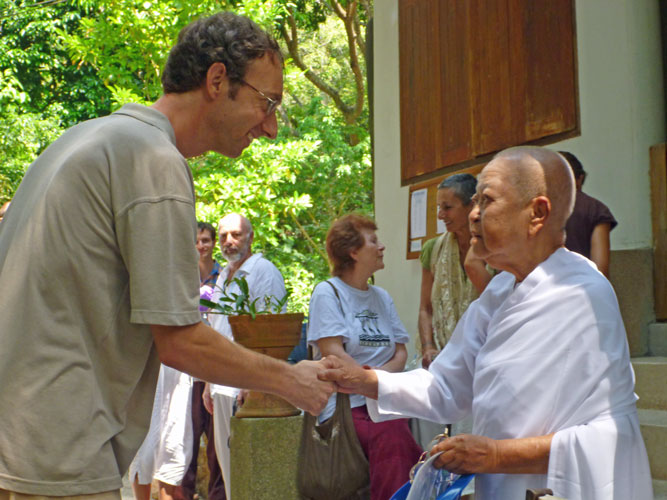 Mike Sansom has been the retreat manager for many years.