PART III: STATESIDE AGAIN
HOMECOMING
After deeply felt farewells to men with whom I'd flown from Nebraska to Germany, I idled away three weeks in a center for returnees at Stone, north of Birmingham in Stafford County, England. The challenges in that base were to keep warm and to fight against the depressing tedium of waiting for orders. Many of us met the challenges by playing unending games of bridge in the narrow confines of the boiler room. There among the wreaths of smoke curling from scores of cigarettes we shared a tad of warmth. You had to be a sharp card player in that camp, for you could lose considerable sums even in the genteel game of bridge. We also kept up a pool on the passage to the U.S.A.—who, when, and how. Many would go by ship. The lucky ones would speed westward as a passenger on an Air Force plane. I lost at cards; I lost in the pool, but I won a plane.

Six of us were permitted to ride across the Atlantic in a cargo plane, a military version of the Douglas four-engined DC-4 transport. We sprawled on the bare plywood deck and alternately sweated and shivered, as the automatic heater blasted on and off. We overnighted at the Keflavik base in Iceland. The chilling mists, miserable mess, and dirty quarters were the same as our crew had met nine months earlier.

On February 5th, 1945 I was back in the United States, ready to celebrate three weeks of leave granted to me at Fort Totten, Long Island. I hitched a ride to Manhattan. My first meal was of milk and apple pie, standing at a counter in the swirl of humanity in the palatial Grand Central Station of New York City. This was one of the memorable dining pleasures of my life. The milk was real milk, not the water-and-powder of the 493rd mess hall, and the apple pie was a desert not served my palate for many months.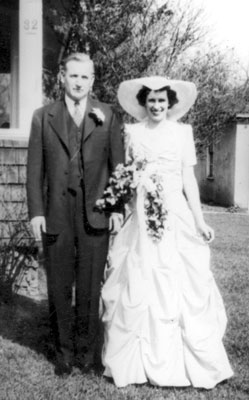 Sister Doris and husband Phil Schwarz
Greenfield, Massachusetts
New York's entertainments were put off until another time. Grand Central Station was all I saw of the city. I elbowed my way aboard a crowded train headed north. I sat on my B-4 bag along with other passengers crammed in the vestibule. The train chugged up along the Connecticut River to my old home town of Greenfield, Massachusetts. I stayed a few days with my sister Doris and her husband Phil Schwarz and also visited my senior brother Warren and his wife Minnie. Warren was a banker, perforce a conservative Republican, and perhaps innately suspicious of anyone who moved to California. Warren questioned me sharply as to whether after all my "adventures" I would ever, as he put it, "settle down". I'm sure I replied politely, but the most common answer to any criticism in those years was a growling, "Well, there's a war on..."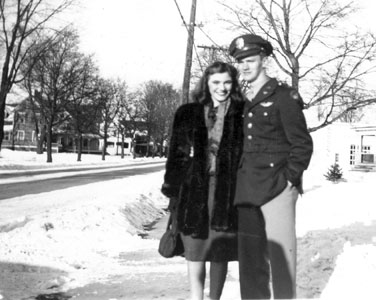 Sweethearts Janie and Bill in Greenfield, Mass.,
shortly after Bill had received his pilot wings.
Feb. 1944
I was upset to learn that the whereabouts of my closest friend of boyhood, Bill Thayer, were still unknown. He piloted a Flying Fortress of the 15th Air Force attacking southern Germany from Italy. A letter of mine addressed to him at the 463rd Bombardment Group had been returned to me with the dread word "Missing" penned on the envelope. Bill was an earnest, hard-working young man. We were often together and shared many confidences until I left Greenfield after my third year of high school. On one of the town's clay tennis courts we often took turns playing against his skilled sweetheart, Janie Hanrahan. Later, I made it a point to call on pretty Janie, who was attending college in New York City. I sought to cheer her by asserting anyone who managed to stay missing in action for months was probably hiding out with partisans in the hills of northern Italy. Should I have said this? Months later, after the European war had ended, Swiss mountaineers found Bill's body in the wreckage of his B-17 in a remote corner of the Alps.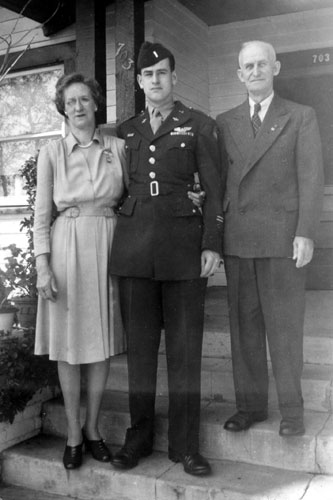 Mother, myself, and Dad
This is the last photo taken with Dad.
Venice, California
The next two weeks I was home at 703 Boccaccio Street, Venice [which had a much different ambience than this part of Los Angeles has today]. My parents appreciated having one of their sons home. Dad was not strong, often resting in bed because of a weak heart. Mother had left her job in the aircraft plant to take care of him. I was glad to be of comfort to my parents, but after a few days I felt oddly out of sorts. Perhaps I revealed my feelings more than I meant to, because months later in a letter Dad remarked on my "mental balance". However, while my brothers and my friends were away fighting battles, I seemed to myself to be a slacker relaxing in the California sunshine. I wasn't doing my part and looked forward to returning to the military life.
---
Back to Navigating Through World War II Home Page
---