Phoenix and South-central Arizona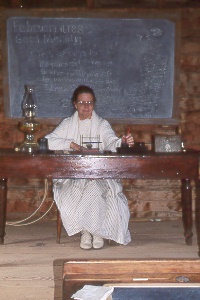 costumed guide at Pioneer Living History Village, north of Phoenix. The building comes from Gordon Canyon on the Mogollon Rim (30 miles east of Payson) where it was used as a school from ca. 1880-1922.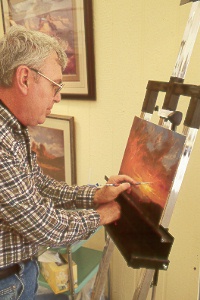 Douglas Miley of Prescott at the Scottsdale Celebration of Fine Art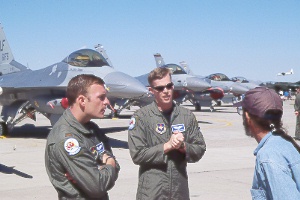 F-16 pilots talk about their experiences and planes during Luke Day at Luke Air Force Base, west of Phoenix

tubing down the lower Salt River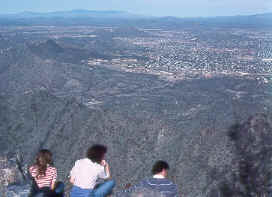 atop Piestewa Peak in the Valley of the Sun, looking to the north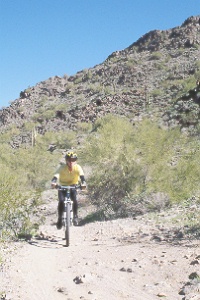 riding in Estrella Mountain Regional Park, southwest of Phoenix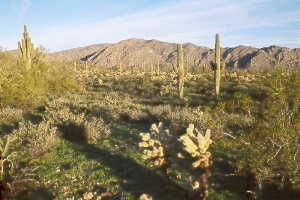 sunrise view of White Tank Mountain from Ironwood Trail; White Tank Mountain Regional Park, west of Phoenix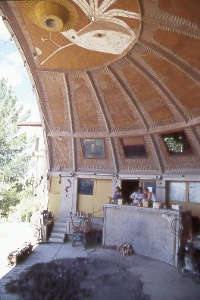 the foundry at Arcosanti
The unique experiment of visionary Italian architect Paolo Soleri slowly rises in the high-desert country off I-17 between Flagstaff and Phoenix. Here Soleri and his apprentices seek to correct many of the world's urban problems through revolutionary architecture. He calls his joining of architecture and ecology "arcology." A former student of Frank Lloyd Wright, Soleri has designed Arcosanti to make the best use of energy and land while providing a human-scale environment for its residents. The town will grow vertically, leaving surrounding land in its natural state, by using pedestrian walkways and elevators instead of the sprawl and freeways found in most urban areas. Arcosanti's strangely shaped buildings make efficient use of the sun's energy. The south-facing apses, for example, allow winter sunlight to enter for warmth yet shade the interior during summer. Greenhouses will provide both food and heating, while using only a fraction of the water normally needed for agriculture. You can also visit on the web at www.arcosanti.org. Arcosanti lies 34 miles southeast of Prescott and 65 miles north of Phoenix. It's easy to reach from I-17; take Cordes Junction Exit 262A, then follow signs 2.5 miles on a dirt road.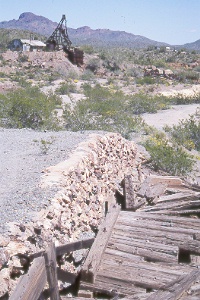 Vulture Mine, southwest of Wickenburg
Ruins of the Vulture Mine and the adjacent ghost town of Vulture City stand remarkably well preserved. They present a rare opportunity to visit a historic mine that has been neither reconstructed nor destroyed. Mining took place at the site from the time of Henry Wickenburg's discovery in 1863 until wartime priorities in 1942 shut the mine down. Gold and silver still lie in underground veins and may be mined again.
You can walk the self-guided, quarter-mile loop past the assay office, glory hole, headframe and main shaft (more than 2,000 feet deep), blacksmith shop, ball mill, power plant, apartment houses, mess hall, and other structures. Be sure to stay on the marked trail—some areas and buildings are dangerous to enter—and wear good shoes; tel. 602/859-2743. Goldpanning costs extra, but you're sure to leave with a bit of gold. A book and video sold here have more information on Vulture Mine. From Wickenburg, head west 2.5 miles on Wickenburg Way, then turn south 12 miles on paved Vulture Mine Road; the mine is on your right.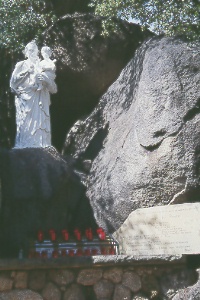 Shrine of St. Joseph, north of Wickenburg
A short trail with steps climbs past statues and plaques depicting the stations of the cross. Giant granite boulders weathered out of the hillside add to the beauty of the spot; donations welcome. Turn west one-half mile at the sign in central Yarnell.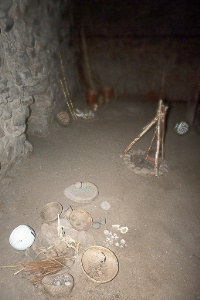 reconstructed room of the prehistoric Salado Indians at Besh Ba Gowah, in Globe
Besh Ba Gowah
Archaeologists count 200 rooms at this pueblo, built and inhabited between A.D. 1225 and 1450, at a time when Salado Indian villages lined both sides of Pinal Creek. An earlier village of pithouses associated with the Hohokam stood on this site about A.D. 600-1150. Exposed to both the elements and humans, Besh Ba Gowah has weathered more than the Tonto National Monument cliff dwellings, but its extensive foundations and remaining walls testify to its original size. The name comes from an Apache word meaning "metal camp."


wildflower planting
Boyce Thompson Arboretum
State Park, southeast of Phoenix


Texas horsecrippler
(Homalocephala texensis)
Boyce Thompson Arboretum
State Park

You can see more than 2,900 different desert plants here in Arizona's oldest (1920s) and largest (323 acres) botanical garden. Exotic species from around the world thrive here alongside the native Sonoran Desert plants. Short trails lead through Sonoran and Chihuahuan desert areas, a cactus garden, riparian natives, palms, pines, eucalyptus, and herb and rose gardens.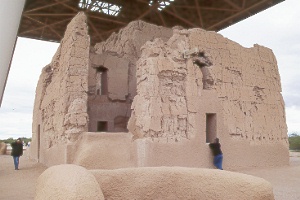 Casa Grande
Arizona's biggest and most perplexing prehistoric building stands a short way off AZ 87, just north of downtown Coolidge. The rectangular structure rises four stories and contains 11 rooms above an earthen platform. An estimated 3,000 tons of mud went into the project, with walls ranging in thickness from 4.5 feet at the base to 1.8 feet near the top.
Archaeologists don't know the purpose of Casa Grande, but some speculate it was used for ceremonies or astronomical observations; certain holes in the walls appear to line up with the sun at the summer solstice and possibly with the moon during selected lunar events. Smaller structures and a wall surround the main building. Hohokam Indians, who had farmed the Gila Valley since about 200-300 B.C., built Casa Grande around A.D. 1350. This is the only structure of its type still standing.
By about 1450, after just a few generations of use, the Hohokam abandoned Casa Grande along with all their other villages. The Jesuit priest Eusebio Kino recorded the site in 1694, giving it the Spanish name for "great house."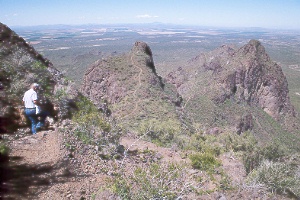 view from Hunter Trail in Picacho Peak State Park, between Phoenix and Tucson
Picacho Peak has served as a landmark for Indians, Spanish explorers, American frontiersmen, and modern-day motorists. Park visitors enjoy hiking, camping, and picnicking in this scenic area. Saguaro and other plants of the Sonoran Desert thrive on the rocky hillsides. Mexican gold poppies can blanket the hillsides in spring after a wet winter.

Civil War in the Southwest at Picacho Peak State Park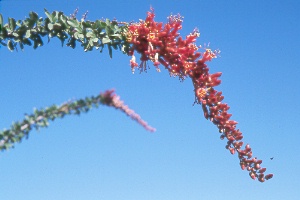 ocotillo (Fouquieria splendens)
at Picacho Peak State Park

A shrub—not a cactus—ocotillo grow as high as 23 feet. During dry spells, the thorny canes appear lifeless. Leaves grow out for a brief time after rains; flowers bloom March to July.
On to Tucson and Southern Arizona
Back to beginning of Arizona Color Pages
Home