This popular five-hour tour of the Imperial Wildlife Refuge takes in the region's beauty and rich mining history. Trips go year-round (ten-person min.); shorter and longer trips can be arranged too. Boats leave from Fisher Landing on Martinez Lake, 32 miles north of Yuma. The office is in the Durashield Building at 1920 Arizona Ave., between 19th and 20th Streets in Yuma; tel. 928/783-4400.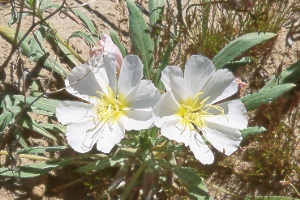 evening primrose
(Oenothera sp.)
beside the Colorado River in western Arizona; The short-lived flowers bloom at night, then turn pink as they wilt.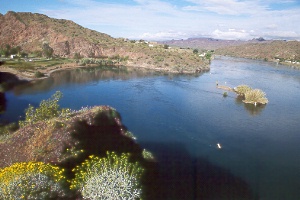 Buckskin Mountain State Park (left)
on the Colorado River
Buckskin Mountain State Park, 11 miles north of Parker off AZ 95, sits on a secluded bend in the river backed by low cliffs. Trees provide welcome shade in summer. Visitors enjoy use of the picnic area, swimming beach, boat ramp, playground, volleyball court, basketball court, horseshoe pit, cactus garden, and hiking trails. Cabana sites have a covered table by the river. All camping is first come, first served; an early arrival may be needed on summer weekends; tel. 928/667-3231. Interpretive programs and hikes go Jan.-April and on summer full-moon nights. A concession, closed in winter, runs a cafe, store, gas dock, and inner-tube rental. The one-third-mile (roundtrip) Lightning Bolt Trail climbs to an overlook from near the ranger station. The interpretive Buckskin Trail starts from the ranger station and follows a bridge over the highway, then winds into scenic hills on a loop of about one-and-a-half miles; a spur trail halfway leads half a mile farther into the hills to some mines.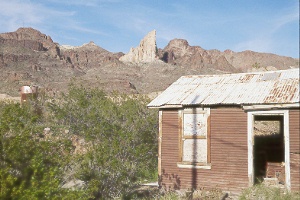 Elephant's Tooth rises above mining relics in Oatman
The weather-beaten gold-mining town of Oatman sits on the western foothills of the Black Mountains, 28 miles southwest of Kingman. Elephant's Tooth, the gleaming white quartz pinnacle east of town, beckoned prospectors, who knew that gold and silver often run with quartz. Gold mining began in 1904, attracting hordes of miners and businesspeople. Citizens named the community for the Oatman family, victims of an 1851 Mohave Indian attack.
Oatman prospered, attracting many new businesses, seven hotels, 20 saloons, and even a stock exchange. Area mines produced nearly two million ounces of gold before panning out in the 1930s. The town, which once boasted more than 12,000 citizens, began to fade away, and might have disappeared altogether had it not become a travelers' stop on Route 66. Oatman lost its highway traffic in 1952, when engineers rerouted the road to the south. A few hundred citizens hang on today, relying largely on the growing tourist business. Old Route 66 between Kingman (I-40 McConnico Exit 44) and Golden Shores (north of I-40 Topock Exit 1) is a National Backcountry Byway. The mountainous section between Kingman and Oatman tops out at 3,550 feet on Sitgreaves Pass before descending past the modern Addwest Gold Road Mine (tours available) to Oatman. From Bullhead City and Needles, you can take the paved Boundary Cone Road east from AZ 95.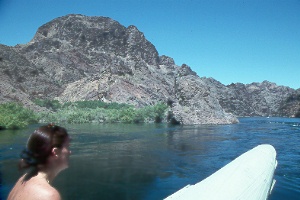 rafting through Black Canyon on the Colorado River below Hoover Dam
Black Canyon River Running
A popular float trip for canoes, kayaks, and rafts begins below Hoover Dam, following the swift Colorado beneath the sheer 1,500-foot cliffs of Black Canyon to Willow Beach (12 miles) or Eldorado Canyon (25 miles). A sauna cave and hot springs make enjoyable stops. Boats can also continue across Lake Mohave to Cottonwood Cove (50 miles) or Katherine Landing (72 miles); this section below Eldorado Canyon isn't recommended for nonmotorized boats from April through October because of the prevailing southerly winds. Obtain permission to launch your boat below Hoover Dam at least three weeks and up to six months in advance from Black Canyon/Willow Beach River Adventures (702/293-8204, www.BlackCanyonAdventures.com), who also offer raft tours and can recommend boat rental companies.