NORTHEASTERN UTAH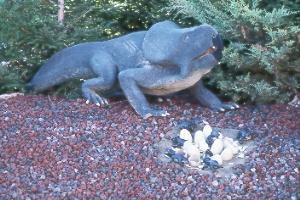 protoceratops at Utah Field House of Natural History State Park Museum, Vernal
Come here to see the dinosaurs. More than a dozen full-size models stalk or fly in the Dinosaur Gardens outside. The natural setting makes the strange creatures seem almost alive. Inside, the Geology and Fossil Hall displays 45-million-year-old skulls of ancient mammals, crocodiles, and alligators that once roamed across Utah. Other exhibits have fossil specimens ranging in size from tiny insects to massive dinosaur bones. A geologic mural 36 feet across shows the structure of rock layers in northeastern Utah. Other exhibits trace Utah's Indians from the Desert Culture through Anasazi and Fremont groups to the modern Ute. The Natural History Hall offers a close look at mounted wildlife of the state. The Vernal Welcome Center in the museum building has area travel information. A city park behind the museum contains a playground and offers a shady spot for a picnic. Located at 496 E. Main, Vernal, UT 84078, tel. 435/789-3799.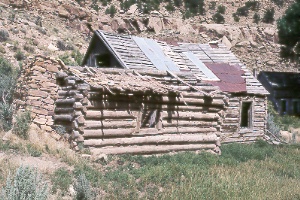 three generations of houses at Harper ghost town in Nine Mile Canyon
Nine Mile Canyon Backcountry Byway
A drive through this scenic canyon takes the visitor back in time to when Fremont Indians lived and farmed here, about 900 years ago. Although their pithouse dwellings can be difficult for a non-archaeologist to spot, the granaries and striking rock art stand out clearly. The canyon is especially noted for its abundant petroglyphs and smaller numbers of pictographs. You'll also see several ranches and the ghost town of Harper.
Today the distances and dusty roads may discourage the more casual traveler. However, if you're interested in rock art or Native Americana, Nine Mile Canyon is an extremely scenic and compelling back road. Although it is frequently rough and dusty, normal family cars should be able to make the trip with no problem as long as the road is dry; it's a good idea to set out with lunch in hand and a full tank of gas. Nine Mile Canyon is actually more than 40 miles long; the origin of its misleading name is unclear. The drive is about 120 miles roundtrip from Price and takes most of a day. From Price, drive southeast 10 miles (three miles past Wellington) on US 6/191 and turn north on 2200 East (Soldier Creek Road) at a sign for Nine Mile Canyon. The road passes Soldier Creek Coal Mine after 13 miles (pavement ends), continues climbing to an aspen-forested pass, then drops into the canyon. Obtain a brochure for Nine Mile Canyon in Price from the Castle Country Tourist Office, the Prehistoric Museum, or the BLM offices.
Another approach is from near Myton in the Uinta Basin via Wells Draw and Gate Canyon. All these roads can be negotiated when dry by cars with good clearance; Gate Canyon is the roughest section and may be impassable after storms. In the late 1800s and early 1900s, these roads through Nine Mile Canyon formed the main highway between Vernal and the rest of Utah.
view west from the summit of Bald Mountain in the Uinta Mountains
Bald Mountain National Recreation Trail climbs to the summit of Bald Mountain (elev. 11,947 ft.) with great views all the way; the two-mile (each way) trail climbs 1,269 feet, putting you in the midst of the Uinta Range's alpine grandeur. Expect a strenuous trip because of the high elevation and steep grades; carry rain gear to fend off the cold wind (even in summer) and possible storms. From the top, weather permitting, you'll enjoy panoramas of the High Uintas Wilderness, the Lakes Roadless Area, and the Wasatch Range. From Kamas, head east 29 miles on UT 150 (Mirror Lake Highway) to Bald Mountain Pass (elev. 10,678 feet). Bald Mountain Picnic Area and Trailhead are on the left.
The outstanding High Uinta Wilderness area contains lofty peaks, lush grassy meadows, fragrant coniferous forests, crystal-clear streams, and thousands of tiny alpine lakes. The Uintas, unlike most other major ranges of the United States, run east-west. Underground forces pushed rock layers up into a massive dome 150 miles long and 35 miles wide. Ancient Precambrian rocks exposed in the center of the range consist largely of quartzite (metamorphosed sandstone). Outcrops of progressively younger rocks are found away from the center. Glaciers have carved steep ridges and broad basins and left great moraines. Barren rock lies exposed across much of the land, including the peaks and high ridges. Despite their great heights, the Uintas have a gentler terrain than the precipitous Wasatch Range. High plateaus and broad valleys among the peaks hold the abundant rain and snowfall in marshes and ponds, supporting large populations of wildlife and fish.
Visiting The Uintas
Highway UT 150 winds over the western end of the range from the town of Kamas to the Wyoming border, with splendid panoramas and access to fishing lakes and hiking trails. On the east, US 191 and UT 44 provide access to the Uintas and Flaming Gorge Reservoir from Vernal. Unpaved roads also lead to trailheads on all sides of the range. Developed and primitive campgrounds can be found along these highways and at other locations, including many of the trailheads. Most people prefer to visit the Uintas from mid-June to mid-September. Campers should be prepared for cold nights and freezing rain even in the warmest months. Afternoon showers are common in summer. Arm yourself with insect repellent to ward off the mosquitoes, especially in July. Snow stays on the ground until well into June and the meltwater can make trails muddy until early July. The lakes and campgrounds along UT 150 become crowded on summer weekends and holidays, though you can usually get off by yourself on a short hike into the backcountry.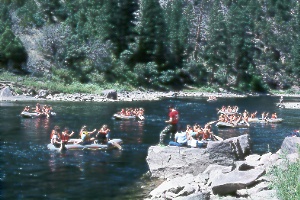 rafting and fishing on the Green River
The Green bounces back to life in Red Canyon below Flaming Gorge Dam and provides enjoyment for boaters, fishermen, and hikers. Anyone in good shape with a raft, life jacket (must be worn), a paddle (and spare), bailing bucket, and common sense can put in at the launch area just below the dam and float downriver to Little Hole (two and a half hours for seven river miles) or to Indian Crossing just above the John Jarvie Historic Ranch (five to eight hours for 14.5 river miles). It's also possible to continue 11 miles beyond Indian Crossing to Swallow Canyon take-out or 35 miles to Gates of Lodore; these runs are mostly flat water and have troublesome sandbars at low water. Gates of Lodore marks the beginning of some big rapids in Dinosaur National Monument; you'll need permits and whitewater experience here or you can make prior arrangements to join a commercial river trip.